50 Cent To Play Himself In Melissa McCarthy's 'Spy'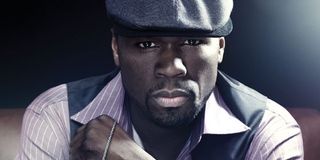 Hard to believe it's been more than a decade since 50 Cent rapped on Get Rich Or Die Tryin', one of hip hop's most influential albums. Time hasn't been kind to Fitty: one could argue the record industry has never been the same since the mid aughts. But he certainly lived out the title of that album, diversifying his portfolio with a number of multimedia strategies, including acting. With this latest casting missive, however, Curtis 50 Cent might have nailed his biggest onscreen role yet.
The Hollywood Reporter claims that the rapper-actor-Vitamin Water pitchman has landed a part in Spy. You may not recognize this movie by the title – it's what we're now calling the Melissa McCarthy vehicle that originally went by the name Susan Cooper. An improvement, even as it swaps out one type of generic for another, but whatever. While no plot details have been shared regarding his role, apparently Jackson will be playing himself. Presumably this will be in a comedic aspect: the easy joke involving tough celebrities used to be that in secret, they were really wimps and cowards. Hopefully that's not the case here, and the production finds something to do with Jackson's peculiar brand of charisma.
The film's already got a pretty loaded cast, one that makes the project seem like a comedy, but what with a slightly serious angle; it won't be spoofy, in other words. McCarthy plays a CIA analyst entering the field for the first time, and it seems like a two-hander with her Bridesmaids co-star Rose Byrne. But also in the cast are two more marquee leading men as spies, Jude Law and Jason Statham. Bobby Cannavale and Nia Long also round out the cast, a colorful collection of names that complicates exactly what we're expecting to see from this film. The Heat director Paul Feig is filming is own script for the story, making this his third straight collaboration with McCarthy.
Jackson's had a diverse collection of roles on the big screen. He played himself in the hit autobiography Get Rich Or Die Tryin' but playing yourself limits the amount of acting talent you can truly showcase. Sharing the screen with Robert De Niro and Al Pacino in Righteous Kill didn't nearly open as many doors as one would think, and his performance in All Things Fall Apart was ultimately ignored. Last year might have been one of his better ones as far as Hollywood, as he popped up both in the serial killer drama Frozen Ground and, convincingly (!), as a computer whiz in Escape Plan. He'll next be seen alongside Bruce Willis and John Cusack in The Prince, proving that even if some do not think much of his acting talent, he sure knows how to work with some of the biggest names in the industry.
Your Daily Blend of Entertainment News