50 High-Res Images From The Hobbit: An Unexpected Journey's New Trailer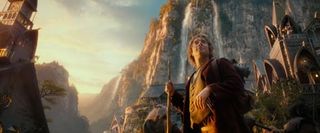 This morning you probably caught the brand-new trailer for The Hobbit: An Unexpected Journey, which not only gave us a much wider glimpse at Bilbo's upcoming adventures through Middle Earth, but revealed some of the film's silly humor as well-- especially with that excellent gag at the very end. But with a trailer that good, it's hard to catch everything on a first go-round-- which is why we're here, with our quick screen-shifting fingers, to hunt down all the highlights and bring them to you.
In the gallery below you can click through 50 high-res screenshots from the new Hobbit trailer, showing off everything from the stunning New Zealand/Middle Earth landscapes to familiar characters from the Lord of the Rings films (hello, Galadriel, Elrond and Smeagol!) There are lots of great facial expressions to catch, some impressive effects building up the world, and the always-surreal sight of a bunch of actors resized according to their characters-- Martin Freeman, a perfectly normal-sized person in real life, still looks perfect as tiny hobbit Bilbo next to giant wizard Gandalf.
The most impressive thing about this new trailer is how much it manages to convey a sense of scope, and how much story it seems to be telling, even though it's just the first of a three-part adaptation of a very short book. We still don't really know how Peter Jackson and his collaborators will manage to expand the story so significantly, but with so much to pore over in this new trailer, we really can't wait to find out.
Click through the gallery below, and let us know in the comments what you're most excited to see come to life in The Hobbit: An Unexpected Journey, which comes to theaters December 14 .
Image 1 of 50
Your Daily Blend of Entertainment News
Staff Writer at CinemaBlend