6 New The Hunger Games: Mockingjay Part 1 Posters Make Things Look Pretty Damn Bleak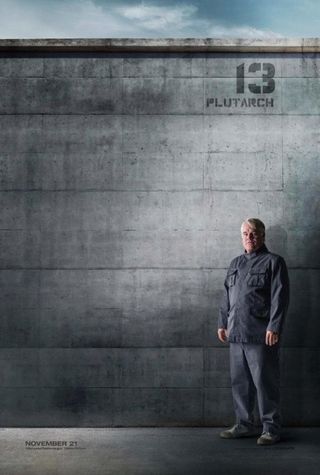 Thanks to the highly-bizarre fashion sense of the folks in The Capitol, The Hunger Games franchise to this point has done a lot of advertising featuring all kinds of splashy colors and visuals. But that was before the war started. In the end of The Hunger Games: Catching Fire, everything in the world of Panem starts to go to hell, as the people of the various outlying districts rise up in revolt against the oppressive upper class. It is somber times for many in this fictional dystopian world, and the brand new character posters that have just been revealed reflect that quite accurately.
Earlier today, The Hunger Games official Facebook Page launched a new viral website via a QR Code, and thanks to diligent work from fans, six pieces of artwork from The Hunger Games: Mockingjay Part 1 have been revealed. Up top, thanks to Yahoo!, is the dearly departed Philip Seymour Hoffman as Plutarch Heavensbee - which will sadly now be on record as one of his final roles.
Next up, courtesy of MTV, is the latest look at Woody Harrellson as Haymitch Abernathy. In the group, he is the only one who looks like he is freezing inside District 13 - perhaps his years of alcoholism have taken a permanent toll on his blood vessels:
Moving on to number three, here we have Jeffrey Wright as Beetee Latier, who is now confined to a wheelchair. Still, that's not stopping him from doing his part during the rebellion. Check out his poster below, thanks to IGN:
Actor Sam Claflin got to debut the poster for Finnick Odair on his own personal Facebook page, and all things considered, he's actually looking pretty dapper in this image. The colors are certainly muted, but Finnick is still maintaining a certain level of style:
The same could be said about Elizabeth Bank's new look as Effie Trinket, which we have thanks to Vanity Fair. Effie is the character most well known for her bright and flashy get-ups, but here she looks like the life has been completely sucked out of her.
Finally, the last Hunger Games: Mockingjay Part 1 character poster features a character who we actually haven't met in any of the films yet: Julianne Moore's President Coin. This one comes straight from the viral itself:
The Hunger Games: Mockingjay Part 1 will be in theaters on November 21st.
NJ native who calls LA home; lives in a Dreamatorium. A decade-plus CinemaBlend veteran; endlessly enthusiastic about the career he's dreamt of since seventh grade.
Your Daily Blend of Entertainment News
Thank you for signing up to CinemaBlend. You will receive a verification email shortly.
There was a problem. Please refresh the page and try again.