The 6 Most Thanked People In Academy Awards History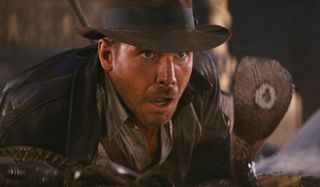 Delivering an acceptance speech at the Academy Awards is a thankless task. Not only are those rewarded often overwhelmed with emotion after being recognized by their peers, but they also have to be witty, engaging and down-to-earth in front of the hundreds of millions of people watching at home.
As you can imagine, most recipients stumble in their efforts to do all of the above. In fact, more often than not, the actors, actresses, directors, writers, and various other members of the film industry that are recognized end up looking like complete fools when they get up on stage.
But through the tears they always make sure to thank the people nearest and dearest to them, as well as some of the most influential people in Hollywood too. Because, you know, it's always good to thank the Hollywood elite so that they will employ you in the future. But who has been name-dropped the most during Academy Award acceptance speeches? Thanks to Vocativ analyzing all 1,396 Oscar acceptance speeches, we now have the results. To find out, check out the list below.
6. God
While God might not have ever sat behind a camera, used final draft to write up his very own screenplay or tried his hand at acting, Hollywood's finest often like to pay their respects to the big man upstairs. This is done not to help out their careers, but just to cover their backs when they arrive at the pearly gates. Because let's face it, if you're a Hollywood star you've almost certainly done some pretty bad stuff in your time to reach your status. In fact, if I was God (and despite my thoughts to the contrary, it actually turns out I'm not) I'd be more than a little peeved that I was overlooked by Academy Award winners in favor of the five people that follow. Yeah, they're cinematic luminaries, but don't forget that God did create the world in a pretty nifty time frame. Out of sight, out of mind.
God might have single-handedly created the hippopotamus, but he didn't bring J.R.R Tolkein's Lord of the Rings books to life in such a truly beguiling and vivid fashion, did he? And that probably explains why Peter Jackson has been acknowledged in Academy Award acceptance speeches more times than the almighty. Peter Jackson has been name-checked 22 times during the history of the Academy Awards, most of which came in 2004 when Return Of The King cleaned up at the ceremony. In fact out of 30 nominations that the LOTR trilogy received from the Academy between 2001 and 2003, it went home with 17 gongs. Even the always magnificent and equally amicable Kate Winslet found time to thank Jackson after she won the Best Actress Oscar for her performance in The Reader. And if Winslet is a fan then it proves just how much of a stand-up guy the Kiwi filmmaker is.
4. George Lucas
Forget about Peter Jackson though, because George Lucas leaves the Heavenly Creatures filmmaker trailing in his wake with Academy Award name-drops. While Jackson might assume that he's rather popular with his 22 mentions, George Lucas has been name-dropped a whopping 23 times during the numerous, preposterously long ceremonies over the years. Lucas' visionary work in technical fields and with visual effects has led to him being thanked over and over again during acceptance speeches. Lucas himself has been nominated for four Academy Awards because of his rather sterling work writing and directing both American Graffiti and Star Wars. But despite this recognition, his most memorable Oscar moment came in 2007 when, alongside Steven Spielberg and Francis Ford Coppola, Lucas presented Martin Scorsese with his first ever Academy Award. Spielberg and Coppola even cracked wise about the fact that Lucas hadn't won an Academy Award, while they had. The cruel bastards.
While James Cameron is often regarded as a rather hard taskmaster, who often pushes his cast and crew to extreme limits in order to get the shots and performances that he desires, it's common knowledge that he's also one of the most visionary filmmakers in modern history. So, by the time the Academy Awards roll around and James Cameron's movie has been inundated with nominations, everyone has usually forgiven Good old Jim for his actions, and they then look to thank him for hiring them. This has led to James Cameron being thanked 28 times during Academy Award acceptance speeches, and cast and crew from the likes of The Abyss, Titanic, Aliens and Avatar have come forth and praised his creative genius. Cameron himself hasn't fared too badly at the Academy Awards either, as he took home Best Picture, Best Director and Film Editing gongs for his work on Titanic. The talented sod.
2. Harvey Weinstein
Over the years, Harvey Weinstein has developed a reputation for fiercely campaigning to get his films and its actors and directors recognized by the Academy. Whether this feverish pursuit for awards is actually accurate, or has been embellished, is arguable. But the fact that he has been name-checked 34 times during Academy Award speeches suggests that there is some truth to these tales. The likes of Penelope Cruz, Ben Affleck, Gwyneth Paltrow (admittedly through her fountain of tears), and Billy Bob Thornton have gone out of their way to thank the larger-than-life producer, who was the co-founder of Miramax Films alongside his brother Bob before they started their own production company, The Weinstein Company, in 2005. In fact, Weinstein took own his own statuette when Shakespeare In Love won the Best Picture accolade at the 1999 ceremony, which also came after The English Patient, which Harvey executively-produced, won the same award in 1996. Clearly there is method to his madness.
1. Steven Spielberg
It simply had to be Steven Spielberg, didn't it? The iconic filmmaker, who is widely regarded as the most successful mainstream filmmaker of all time, has been name-dropped 42 times throughout the history of the Academy Awards. Which is hardly a surprise really, because Steven Spielberg's films are almost always specifically designed to be acknowledged by the Academy. They're simply Oscar fodder. John Williams, Daniel-Day Lewis and Octavia Spencer have thanked Spielberg for his efforts during their speeches, while Spielberg himself has won three Academy Awards during his prolific career. Two of these were for Best Director after he oversaw 1993's Schindler's List and 1998's Saving Private Ryan, while he also picked up the Best Picture Academy Award for the former too. But it doesn't stop there. Spielberg has actually won 126 awards in general from a possible 231 nominations since 1973. What we're trying to say is he's kind of a big deal. And that's even without mentioning his sterling beard.
Your Daily Blend of Entertainment News