George Lucas Apparently Wasn't Into Telling His Star Wars Actors How Their Characters Felt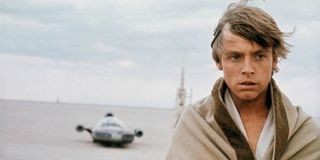 It's common knowledge that George Lucas wasn't much of a director. Don't get me wrong; he has a once in a generation mind for devising characters, outlining a story and creating a vivid unique world. But he was never one for overseeing a huge cast and crew on set. And Mark Hamill has now added another tale that underlines just how uncomfortable he was with his Star Wars actors.
Mark Hamill recalled a tale from his time filming the original Star Wars trilogy to Schmoes Know, and he admitted that George Lucas' approach to working with his actors was incredibly lackadaisical.
Poor George. Despite the fact that he has written and directed some of the most integral movies of the last 45 years, including THX 1138, the 1973 classic American Graffiti, Star War Episode IV: A New Hope, and, um … that's it, Lucas has always struggled while on-set. Harrison Ford famously told Lucas regarding the first Star Wars script, "George, you can type this shit, but can't say it."
In fact, one of the my favorite tales regarding George Lucas came straight from the mouth of iconic screenwriter John Milius from the documentary Easy Rider and Raging Bulls (a film that any self-respecting movie buff needs to have seen at least half a dozen times). Milius, who has written the likes of Dirty Harry, Conan The Barbarian and Apocalypse Now, explained that Lucas also struggled during production since he got "sick all of the time" because of his diabetes.
In fact, according to Milius, Lucas had already figured out that he'd missed a trick by going into feature film directing. Instead, Lucas believed that he should have gone into "porno." Why? Because all you need is a "warm room," and even then people don't really care about the room itself unless it's a nice room. In fact, Milius believes that if Lucas hadn't found success with Star Wars and American Graffiti then he would now have a multi-billion dollar porno company.
However it sounds as if the set for Star Wars: The Force Awakens was much more vibrant. Of course, George Lucas, who has previously the first six installments and directed four of the Star Wars franchise with mixed results, has been replaced by J.J. Abrams for the seventh edition to the sci-fi cannon. And when pressed for information on the Super 8 and Mission: Impossible 3 director's approach, Hamill simply noted, "J.J. is much more upbeat – he loves the process."
Mark Hamill has returned to the Star Wars family for The Force Awakens alongside Harrison Ford, Carrie Fisher, Anthony Daniels, Peter Mayhew and Kenny Baker, while a whole host of new actors have been cast too, including John Boyega, Oscar Isaac, Andyer Serkis, Adam Driver and Domhnall Gleeson. And it's safe to say that quite a few people are beyond excited for the film's December 18, 2015 release date. Lucas probably isn't one of them though.
Your Daily Blend of Entertainment News