8 Of Our Favorite, Most Bizarre Moments From The SpongeBob Movie Trailer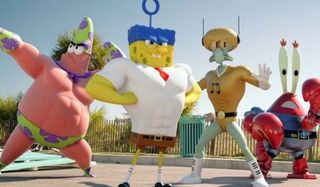 He lives in a pineapple under the sea, but when his beloved Bikini Bottom is threatened, SpongeBob SquarePants will rise above the waves to save it! That's the premise for the wild new adventure The SpongeBob Movie: Sponge Out of Water, and you can see a bit of this colorful sea creature in action in the film's first trailer.
Nickelodeon dropped the above trailer, and with it revealed loads of totally bonkers elements. Let's take a closer look at this trailer's wackiest and weirdest moments through the gift that keeps on giving, GIFs!
Bikini Bottom Goes Beyond Thunderdome In The Blink Of An Eye
Mr. Krabs is freaking out that Bikini Bottom will be destroyed by the evil plans of a vicious pirate (Antonio Banderas in ginger beard). Squidward insists he's over-reacting, but not so much. Just like that, the cast of SpongeBob SquarePants has gone full on Mad Max.
The SpongeBob Crew In 3D Animation!
SpongeBob, Patrick, Mr. Krabs, Squidward and Sandy surface on the beach, and are somehow totally adorable in 3D animation! And of course their grand entrance is a bit of a disaster, first ruining a little girl's sand castle (look at her dismay!) then getting kicked out--literally--by a very violent boy.
Holy Mackerel that's Slash!
A little Guns N' Roses rock star cameo for you. Just because.
Patrick Crushing On Ice Cream
We feel you, Patrick.
SpongeBob And Crew As Superheroes
Patrick with the tubbiest six-pack abs ever to hit the big screen. SpongeBob with a costume demanding to be cosplayed immediately. Squidward rocking some sort of music powers, because obviously. And Mr. Krabs has gone cyborg. Plankton is Hulked out. And Sandy…has gone full on squirrel.
SpongeBob Discovers His Bubble Bobble Super Power
That's just downright delightful, and likely looks even cooler in 3D.
Patrick Learns The Limits Of SpongeBob's Power
Ouch.
Pirate Survival Gig
Hang on a tick! Did you notice that this trailer shows Antonio Banderas's pirate Alameda Jack as a beachside burger vendor! And they sell Krabby Patties! Oh man. Tough times when you're a pirate with a second job.
The SpongeBob Movie: Sponge Out of Water opens February 6th.
Staff writer at CinemaBlend.
Your Daily Blend of Entertainment News
Thank you for signing up to CinemaBlend. You will receive a verification email shortly.
There was a problem. Please refresh the page and try again.