AMC Bringing Taxi Driver Back To The Big Screen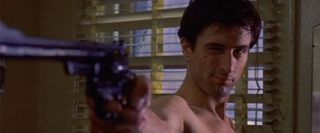 When AMC Theaters brought Back to the Future to the big screen, people flocked to the theaters for their chance to see a beloved classic the way it was meant to be seen. Then, in memory of the late, great Leslie Nielsen, they showed Airplane! giving people not only the chance to pay respects, but a chance to enjoy classic comedy en masse.
Well, they're doing it again, except this time the under-17 crowd won't be getting in. Martin Scorsese's brutal classic Taxi Driver is being brought to the big screen for two shows to celebrate its 35th anniversary. This is great news as it shows that AMC isn't so worried about ticket sales that they won't show an R-rated film.
The only downer is that it's being shown in digital 4K format, rather than on film. I'm not opposed to films shooting in digital, there's really no way around it these days, but Taxi Driver is a dirty, grimy film and it should be shown that way. I'll take a scratched up old 35mm print over a digital version of it any day.
Still, seeing this classic on the big screen will be an experience most of us have never had before, so purchase your tickets soon as I'm sure they will go fast. Taxi Driver will show Saturday, March 19th, and Tuesday, March 22nd, and as a bonus viewers will receive a commemorative poster while supplies last, so get there early.
Your Daily Blend of Entertainment News
Thank you for signing up to CinemaBlend. You will receive a verification email shortly.
There was a problem. Please refresh the page and try again.