AMC Brings The 2009 Best Picture Showcase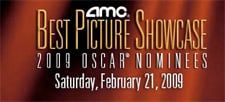 It's Oscar season, and with the awards show only a few weeks away, you're rapidly running out of time to see all of the major contenders. It becomes especially difficult to see some of the movies nominated as they have to go up against new releases that are likely to draw a bigger crowd, leaving theaters with the choice of critically acclaimed empty theaters versus less artistic movies that will be bigger commercial successes.
Luckily, AMC Theaters has a soft spot for those who want to see the Academy recognized films. They've put together a marathon showing of the five pictures nominated for Best Picture. On Saturday, February 21st, you can walk into one of their selected theaters, drop $30 and get five movies and a large popcorn out of the deal. Pretty good, eh?
This is a great deal, although the day before the Oscars seems a little late for such a cool promotion. Unfortunately AMC theaters aren't everywhere, so some people are still going to be left out in the cold when it comes to Oscar night.
Head over to AMC Theaters to see if the Best Picture Showcase is available near you.
Your Daily Blend of Entertainment News
Thank you for signing up to CinemaBlend. You will receive a verification email shortly.
There was a problem. Please refresh the page and try again.