Al Pacino Could Play Joe Paterno In Biopic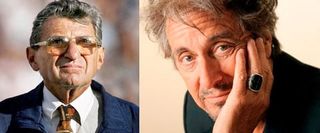 Whether or not you're a fan of college football, you'd have to have been living snugly in a cave the past year not to know Joe Paterno. As the celebrated head coach of the Penn State football team, Paterno was a respected leader of the Pennsylvanian community of Happy Valley, so much so that his likeness was immortalized in a mosaic on a local building—with a halo no less—and a statue of him towered in front of the University's football stadium. But his saintly image took a major blow when news hit that his former defensive coordinator, Jerry Sandusky, had been accused of multiple counts of sexual abuse against a string of young boys, sometimes on campus grounds.
The Penn State scandal made headlines nationwide from that moment through Paterno's controversial firing in November of 2011, his death the following January, Sandusky's conviction on 45 counts of sexual abuse against minors this summer, and the release of the Freeh report, which detailed how Penn State authority—including Paterno—responded to reports of Sandusky raping a child on the university's grounds. At every turn, there was fiery debate between those who declared there was no way Paterno—or JoePa as he's lovingly known around Penn State—should be blamed for Sandusky's heinous actions and those who insisted JoePa let them all down by allowing Sandusky to slip by with such an accusation laid down.
The dust has barely settled on all this, and already Deadline reports a film about the whole affair is in the works. As I do about the actual scandal, I have mixed feelings on this proposed biopic, but must admit I'm curious to see what will come of it, especially as none other than Al Pacino is attached to play JoePa, on whom the story will center. The source material will be celebrated sports journalist Joe Posnanski's Paterno biography, which was in the works a year before the Sandusky story broke, meaning much of it focuses on Paterno's life before.
Those still enraged that the halo has been removed from Paterno—literally in the case of the aforementioned mural—and his statue taken down might find some solace in what will likely be a humane portrayal of the man who died in the midst of a scandal that ravaged his reputation. But even those disappointed or hurt by JoePa's actions—or lack thereof—will likely be drawn to the film if it's handled with care. For now, it's a package seeking a backer, but, really, with a topic this heated I can't imagine Paterno will be sitting on the bench for long.
Staff writer at CinemaBlend.
Your Daily Blend of Entertainment News
Thank you for signing up to CinemaBlend. You will receive a verification email shortly.
There was a problem. Please refresh the page and try again.