Alexander Skarsgard's Tarzan Is Going In A Totally Different Direction With Its Plot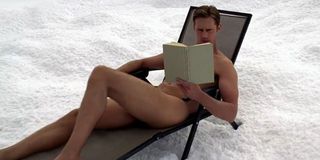 For years, Swedish dreamboat Alexander Skarsgård has made a name for himself as the lusty, Nordic vampire Eric Northman on HBO's True Blood. But with the series drawing to a close in its seventh season, Skarsgård is looking to film for his next great adventure. And coming soon, he'll be a wild thing in the David Yates-directed Tarzan, which has now rolled into production.
Hey U Guys reveals that Warner Bros. Tarzan is officially in full swing as filming has begun. With this news, the studio behind such spectacular tent poles as Godzilla and The LEGO Movie is revealing Tarzan official plot synopsis:
It's interesting that Warner Bros hasn't gone the expected origin story route with their Tarzan. Instead of establishing the iconic action hero as a feral boy turned man of the jungle, the screenplay by Stuart Beattie, Craig Brewer, John Collee and Adam Cozad, will start with a "gentrified" Tarzan, tamed by civil society, renamed John Clayton III, Lord Greystoke. He's an aristocrat and a married man. But when he's invited back to the Congo, we expect Lord Greystroke will be quick to get his kit off and swing through the trees. And hopefully, we'll see a live-action version of this:
Swoon!
Aside from Alexander Skarsgård, the plot synopsis also teases the casting of two-time Academy Award-winner Christoph Waltz and Margot Robbie, who earned loads of notice off of last year's Wolf of Wall Street. Also on board is West African actor Djimon Hounsou, who recently lent his voice to the villainous Drago of How to Train Your Dragon 2, and Samuel L. Jackson, who is fresh off the set of Avengers: Age of Ultron, which is shooting not far from Tarzan. While Avengers: Age of Ultron shoots at Shepperton Studios in Surrey, England, Tarzan is shooting on stages at Leavesden, before branching out into location shoots in England and Wales.
Tarzan is poised to swing into theaters in the U.S. and Sweden on July 1st.
In a barely related note, Disney's Tarzan is now streaming on Netflix.
Your Daily Blend of Entertainment News
Staff writer at CinemaBlend.