Alicia Vikander's One True Terror About Filming The Danish Girl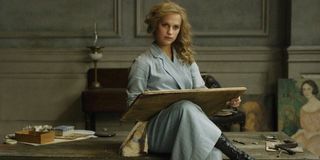 You'd have probably thought that starring opposite Eddie Redmayne in the wake of his Oscar-winning antics in The Theory Of Everything would have been Alicia Vikander's main reason for nerves while shooting The Danish Girl. However, there was actually one particular, rather prominent trait of her character in the much-anticipated biopic that the 27-year-old found was even more daunting: her ability to paint. In fact, what really terrorized Alicia Vikander about having to portray Gerda Wegener in The Danish Girl was the fact that she might have to paint Eddie Redmayne. Listen to her tell the story:
Back in the day, Gerda Wegener was one of the most distinguished and celebrated illustrators and painters of her era. Alicia Vikander was vey much aware that any work that she did really had to be quite top notch. Towards the end of October, I sat down with Alicia Vikander to discuss her role as Gerda Wegener in The Danish Girl, and asked her if she had the chance to actually paint Eddie Redmayne as Lili Elbe.
In the end, Alicia Vikander didn't really have too much to worry about when it came to her painting skills. Mostly because her performance in The Danish Girl is so supremely layered with nuanced emotion, heart-breaking angst, and raw magnetism that you can't take your eyes off her as you're too scared you'll miss another moment of beauty.
Seriously, Alicia Vikander is that good in The Danish Girl. And while Eddie Redmayne's equally magnificent performance as Lili Elbe is likely to draw the most attention because of the actor's physical transformation, Vikander is just as important in relating the complex dramas and conflicts of the film to the audience, while she also stops The Danish Girl from toppling into the overly melodramatic.
The Danish Girl is as much Gerda Wegener's film as it is Lili Elbe's. Set in the 1920's, The Danish Girl starts off with Lili as Einar Wegener, a talented painter married to Gerda. But after Gerda asks Einar to stand in as a female model for one of her pieces, Einar suddenly finds himself more and more attracted to possessing the female form. Consequently he begins to live life as Lili Elbe and looks to undergo sex reassignment surgery, despite the fact that he knows he will probably die undergoing such an operation.
The Danish Girl is luscious, operatic, and enchanting, and you can expect director Tom Hooper, Eddie Redmayne and Alicia Vikander to be in the running for awards over the next few months. You can find out why when The Danish Girl is released on November 27.
Your Daily Blend of Entertainment News
Thank you for signing up to CinemaBlend. You will receive a verification email shortly.
There was a problem. Please refresh the page and try again.