The Danish Girl Trailer: Watch Eddie Redmayne Unlock Inner Beauty In Gorgeous Clip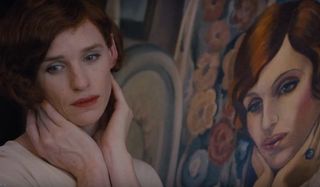 The Theory of Everything star Eddie Redmayne is wasting no time in chasing another Oscar. The Danish Girl trailer has arrived online, and its brief but lush look at the story of trans pioneer Lili Elbe will melt your heart. This is one to watch come awards season. Watch the trailer below.
Following his Oscar-winning performance as Stephen Hawking, Redmayne re-teams with his Les Miserables director Tom Hooper for The Danish Girl. It's the story of Lili Elbe, who was born Einar Magnus Andreas Wegener. She is the first documented trans person to undergo sexual reassignment surgery, and she did it with the support of her wife Gerda Gottlieb, played by Alicia Vikander in the film. The Danish Girl is as much about Gerda as it is about Lili.
Based on the book by author David Ebershoff, The Danish Girl tells of their early marriage, both spouses making a living as prominent artists of the time. The trailer depicts how one day Gerda asks her husband to pose for her wearing women's clothes, which visibly unlocks a revelation in Einar. Soon, they decide to dress him up as the woman in Gerda's paintings, named Lili, and they set out on the town. Initially unbeknownst to Gerda, Einar feels at home in this new form and a stranger in his birth body. Though there's some initial hesitance from Gerda, she ultimately loves Einar and helps him become Lili.
"The fact is, I believe that I'm a woman," Redmayne says as Einar. If you don't gasp at the emotions running high when Vikander's Gerda responds with, "And I believe it, too," you might want to get your tear ducts checked 'cause, darling, you're cold as ice.
On style note, this trailer flaunts the beauty and elegance of cinematographer Danny Cohen. He worked with Tom Hooper on Les Miz as director of photography, and there's a similar tone and color palette to this footage. Though, it appears there's more of a wide range of shots, as opposed to the close-ups in the musical adaptation.
Now that the LGBT community in America has achieved a major win from the Supreme Court with nation-wide marriage equality, more and more focus has been given to the "T." Thanks to icons like Laverne Cox from Orange Is the New Black and Bruce Jenner's transition into Caitlyn Jenner, the trans community have been given celebrity voices and faces, and film and TV are beginning to reflect this. Eddie Redymayne, in turn, is progressing this dialogue with The Danish Girl. In a recent interview with Out magazine, he said,
The Danish Girl will hit theaters on November 27.
Your Daily Blend of Entertainment News