How Eddie Redmayne Boldly Tested His Danish Girl Characterization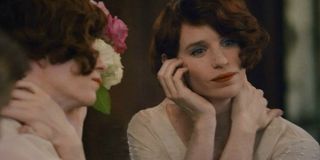 Eddie Redmayne's transformation in The Danish Girl is truly spectacular. Not only does he manage to portray the complex, emotional strain that Lili Elbe went through in her pursuit to have sex reassignment surgery, but he also drastically alters his physical appearance too. In order to feel confident about portraying a man living as a woman, Eddie Redmayne recently admitted to me that he would secretly go out and about during filming while dressed as Lili.
Last month I had the opportunity to sit down and talk with Eddie Redmayne about his work on The Danish Girl. During our discussion I asked the fantastically affable Redmayne if, in order to truly inhabit the character, he decided to secretly go out in public dressed as Lili, to which he responded:
No doubt this was just one of many ways that Eddie Redmayne prepared for his role as Lili Elbe in The Danish Girl. In fact, later this week I'll also reveal how one particular Hollywood director really helped the English thespian in his research and preparation for his performance.
All of his work inspired Redmayne to give one of the best performances of the year. In fact, I'd even goes as far as to say that, in The Danish Girl, he outdoes his Oscar-winning work in The Theory Of Everything. He is just that majestic. You can take a gander at a clip from my interview with Eddie Redmayne for The Danish Girl below.
The Danish Girl is the real-life story of the marriage between Gerda Wegener (Alicia Vikander) and her husband Einar Wegener (Eddie Redmayne). This comes under immense strain after Gerda asks Einar to pose as a female model for her painting only for Einar to suddenly develop an attraction for the female appearance. Soon, Einar starts living as a woman named Lili Elbe, and this causes great strife in her personal and professional life, as well as impacting her marriage, and she soon seeks to have sex reassignment surgery.
All of which is handled with aplomb by the Oscar-winning director of The Danish Girl, Tom Hooper (The King's Speech). Which is why when The Danish Girl is released on November 27, you should do yourself a favor and instantly get it seen.
Your Daily Blend of Entertainment News