Amazing Superheroes Designed By Little Girls Cosplaying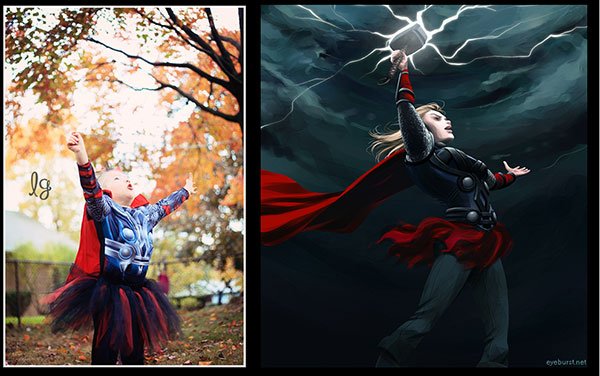 It can be tough being a female comic book nerd. There's the misogynistic "fake geek girl" accusation/meme, and a frustrating lack of representation in superhero movies. Cosplay for females is notoriously tricky, since so many superheroines are nearly naked, or impossibly endowed. But let's forget all these depressing things for a second and revel in the joy of little girls claiming superheroes as in their own in their own unique ways. Thor's a guy? Who cares! Power Girl has ginormous boobs? Shut your face because little girls around the world are using their imagination to envision themselves as their favorite heroes! And it's inspiring. And not just to us.
The Mary Sue brought our attention to a Tumblr by undergrad biology student/incredible artist Alex Law. Little Girls Are Better At Designing Superheroes Than You shows some of these girls' excellent cosplays next to the Law art they inspired. Check a few of our favorites out below.
As someone who grew up frequently frustrated by the superhero costumes offered to me as a girl, I am in awe of these girls' moxie. As Law himself notes kids "can be less restricted by cultural gender norms" and the results here are evident and fantastic. Thor with a tutu may be my favorite, but the Batgirl at the computer is a close second…or maybe the smirking Power Girl. Don't make me choose!
Equally impressive is Law's cartoon interpretations of these costumes, each presenting a confident and powerful superheroine that is not impossibly posed or super sexualized. High fives all around! Hopefully comic book artists and Hollywood will take note of this transgressive and stupendous collaboration.
Law describes this Tumblr as a "mini art project" and warns that he'll be slow to update. Nonetheless, we'll be checking back often to see what other outstanding takes on superheroes he and his kickass little muses will come up with. In the meantime, we have Iron Man 3, Thor: The Dark World, and Avengers 2 to look forward to. Bring your cosplay, little ladies!
Your Daily Blend of Entertainment News
Staff writer at CinemaBlend.