Amazon Prime Adds Star Trek, Top Gun, And Hundreds More Paramount Movies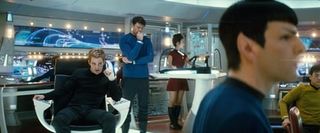 As digital streaming gobbles up more and more of the home-entertainment landscape, the various services are fighting tooth and nail to lure customers their way. Aside from the usual selling points such as price point and ease of use, probably the most important bit of bait services such as Netflix and Amazon can offer is the actual content: who has more of it, and who has the best of it. Now TechCrunch reports that Amazon has lobbed a new cannonball into the fray by announcing a partnership with Paramount Pictures that will expand their streaming catalogue with "hundreds" of Paramount movies.
Amongst those "hundreds" are titles such as Mission: Impossible III, J.J. Abrams' 2009 Star Trek, Top Gun, Breakfast at Tiffany's, Braveheart, Forrest Gump, Mean Girls, and The Truman Show. The new Paramount additions help flesh out a collection of streaming content that Amazon says offers over 17,000 movies and television episodes.
If you're not an Amazon Prime customer, the gist is that you pay $79 a year for membership in the service, which allows you access to all the videos, as well as other perks such as free two-day shipping and the Kindle Lending Library.
It will be fascinating to see how the streaming landscape shakes out over the next few years. More and more companies are trying to make a grab for a slice of the streaming pie, and it's unlikely that all of them will succeed. Power player Netflix seems to have been lagging behind lately when it comes to adding new film content, despite still excelling on the TV front. Then again, Netflix is also investing more and more in original content, so who knows what Netflix will look like five years from now? (Although we can be pretty sure it won't involve a surprise relaunch of Qwikster.)
Your Daily Blend of Entertainment News
Your Daily Blend of Entertainment News
Thank you for signing up to CinemaBlend. You will receive a verification email shortly.
There was a problem. Please refresh the page and try again.