Amazon Releasing Exclusive Tim Burton Blu-Ray Collection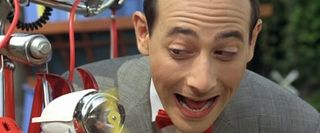 While I think most people would agree that Tim Burton's output has become a little repetitive over the years, there's no question that his movies continue to impress from a purely visual standpoint. With recent Burton flicks such as the forgettable Alice in Wonderland, the visual extravaganza is pretty much the only selling point (and the less said about those Dark Shadows trailers, the better). Either way, however, if you're looking to add Tim Burton movies to your home-video collection, opting for anything short of the best available picture quality would be a crime. That being the case, Burton fans might want to turn their attention to an Amazon exclusive release that's arriving next week: The Tim Burton Collection (opens in new tab) on Blu-ray.
The seven-disc set is being released next Tuesday, May 1st, but it's currently available for pre-order for $47.99. The movies included in the collection are a nice mix covering the span of Burton's career. It includes certified Burton classics Pee Wee's Big Adventure and Beetlejuice, continues on with both of his bat-flicks (1989's Batman and 1992's Batman Returns), then caps things off with Mars Attacks!, Corpse Bride, and Charlie and the Chocolate Factory. That's a solid line-up and a good price, although I'd much prefer Burton's Chocolate Factory were replaced by Edward Scissorhands, Ed Wood, or even Sleepy Hollow. Or, hell, a copy of the Gene Wilder version.
Amazon doesn't list any specifications as far as bonus features, but presumably these are just the previously released Blu-rays that Amazon has bundled together in a snazzy case. The set will apparently include "an all-new premium hardcover book." It's a good deal for the die-hard Burton fan; the rest of us are probably better off picking and choosing.
Your Daily Blend of Entertainment News
Your Daily Blend of Entertainment News
Thank you for signing up to CinemaBlend. You will receive a verification email shortly.
There was a problem. Please refresh the page and try again.