American Hustle Passes $200 Million; Does This Affect Its Oscar Odds?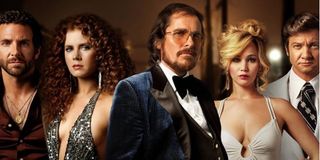 Back in the era of five Best Picture Oscar nominees, there would be a clear distinction: four films would reside in the category, followed by one monster hit. Of course, the Best Picture winner would eventually make a heap of cash itself (very few Best Picture winners lose money, historically), but most of that would come after the ceremony, when that blockbuster was long forgotten. It's a powerful marketing tool to slap a film with a NOMINATED: BEST PICTURE tag, but it's even better when it's a WINNER.
Now that the field has expanded, there's a lot more room for high grossing hits, and this year offers several crowd-pleasing options. One of them, American Hustle is still kicking ass at the multiplex now. THR reports that David O. Russell's comedy-drama about the real life ABSCAM scandal has just crossed $200 million worldwide mostly on the strength of its American success. Domestically, the picture has grossed $138 million for distributor Sony, but it's still very much alive. Last weekend, it fell out of the box office top ten but still grossed a healthy $3 million on 1,640 screens, great numbers for a film in its ninth week of release.
The film has yet to open in several international territories, so $250 million globally is certainly in play. That being said, what effect will this have on the Best Picture race? Hustle is actually not the highest grossing Best Picture nominee. That honor goes to the behemoth Gravity, which was a monster hit, bringing in $698 million worldwide in 3D receipts. There's a very interesting trend of these critically-lauded films pulling in even bigger numbers overseas: while American Hustle is the biggest box office haul in the career of megaproducer Megan Ellison, it's only grossed $64 million overseas. Meanwhile, The Wolf Of Wall Street, which has a sticky distribution situation with its rights ping-ponging between releasing companies in different regions, has scored $196 million internationally to take it's box office total to $305 million, the biggest Martin Scorsese film yet.
The other big Oscar film this year is Captain Phillips, which has collected $217 million worldwide thus far. The rest of the nominees this year emphasize a haves and a have-nots system box office-wise, and with the final Oscar votes due February 25th, you know that some of the awful fairweather voters are going to notice this.
Fox Searchlight had the muscle to keep 12 Years A Slave in theaters for 17 weeks, but even with $109 million in global receipts, it never showed strong-enough per-screen stats to screen at even 1,500 locations on a given weekend (again, American Hustle was in 1,640 screens in its ninth weekend of release). The other nominees seemed like indie boutique items, for the most part: Philomena owes it's surprising $75 million take to a $46 million reception overseas, but Dallas Buyers Club and Her have yet to cross $30 million worldwide. And while Oscar favorite Alexander Payne has usually found mainstream success with Sideways ($110 million) and The Descendants ($177 million), poor black and white Nebraska couldn't break out of that arthouse ghetto, grossing only $15 million thus far. Do you think Oscar voters noticed?
Your Daily Blend of Entertainment News
Thank you for signing up to CinemaBlend. You will receive a verification email shortly.
There was a problem. Please refresh the page and try again.