Amy Adams To Be Maven Pictures' Object Of Beauty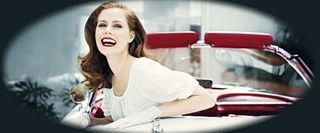 Since her Oscar-nominated breakthrough with the indie dramedy Junebug in 2005, Amy Adams has been an ingénue worth watching. She's fearlessly bounded from the crude comedy Talladega Nights: The Ballad of Ricky Bobby to the winsome family-friendly adventure Enchanted to a far more austere role in John Patrick Shanley's scandalous drama Doubt, which scored her further Academy Award attention. In a few short years, Adams has earned a reputation as an inarguably charming screen presence and a solid performer whatever the genre. So how will she follow up a year wherein she not only earned her third Oscar nomination for the gritty biopic The Fighter but also co-starred with a bunch of Muppets? What new terrain has she left to conquer? Well, that of producer.
THR reveals that Adams has signed on to Maven Pictures' adaptation of Steve Martin's enigmatic novel An Object Of Beauty, and will star as Lacey Yeager, the captivating and successful art dealer at the center of Martin's globetrotting tale. While Lacey is described as beautiful, smart, and ambitious, she is above all considered charismatic, and so Adams seems a perfect fit. However, what's truly interesting about her deal with Maven is that Adams has also signed on to produce the feature alongside Maven's founders Trudie Styler and Celine Rattray. This will be a first for Adams, but Styler and Rattray are confident the hardworking actress will be a great addition to the production team, saying:
In line with their mission statement, Styler and Rattray recently cut a similar deal with Katherine Heigl, who is now set to star and co-produce the prosopagnosia thriller Face Blind. It seems a calculated move on their part to not only score bankable talent, but also give female stars a sense of control over their career and output. There's no word on when An Object Of Beauty hopes to go into production, but the newly formed Maven Pictures will debut their first produced film, the Kristen Wiig-fronted comedy Imogene, later this year. Other in-development titles on the Maven slate include Happy Holidays, Katherine Sloane, a Christmas comedy co-starring Sigourney Weaver and Kate Beckinsale as an estranged mother-daughter duo, and The Bell Jar, a drama based on Sylvia Plath's beloved novel.
Staff writer at CinemaBlend.
Your Daily Blend of Entertainment News
Thank you for signing up to CinemaBlend. You will receive a verification email shortly.
There was a problem. Please refresh the page and try again.