Angelina Jolie And Johnny Depp Will Get It On In The Tourist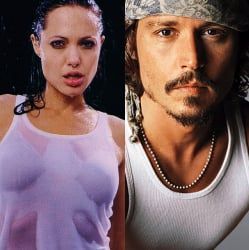 I've gotten whiplash from trying to keep track of the cast of The Tourist, a spy thriller that's had George Clooney, Tom Cruise, Sam Worthington and Charlize Theron all attached at various points. But now that PopEater has gotten their hands on the movie's script, I think we know why the casting went through so many stages-- they wanted to cast the hottest actors possible in order to create the steamiest sex scene of all time.
Apparently the script goes into very specific detail about the nature of the sex scenes that stars Angelina Jolie and Johnny Depp will participate in. "The outline of her naked body is visible in the shower ... Frank walks to the shower and opens the glass door. Walking in, he lifts Cara against the glass, clutching at her slithery body, kissing her frantically. She kisses him back with ardor, wrapping her dripping legs around his back." Later he puts his hand in her cleavage and then shushes her when she looks surprised. The idea of Jolie and Depp doing this scene together has obviously already given half the world a heart attack, so can you imagine it actually happening? Then again, we've already seen Jolie and Brad Pitt make out while they were actually doing it in real life. Maybe Mr. and Mrs. Smith was in fact the pinnacle of hot people together onscreen, and little do we know it's all downhill from there.
Your Daily Blend of Entertainment News
Staff Writer at CinemaBlend