Animation Legend Hayao Miyazaki Is Retiring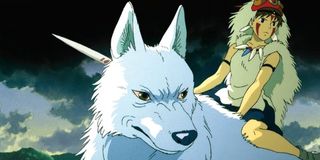 Hayao Miyazaki, a Japanese animation giant whose name has become practically synonymous with the entire industry, is ready to hand the work down to a new generation of animators. During a press conference at the Venice Film Festival, according to The Los Angeles Times, Studio Ghibli President Koju Hoshino announced Miyaziki's retirement but declined to answer questions, saying that there would be more details at a press conference in Tokyo next week.
Miyazaki co-founded Studio Ghibli in 1985 but his career stretches decades earlier than that, to when he joined Toei Animation in 1963 as an in-between artist on Gulliver's Travels Beyond The Moon. Miyazaki's first full-length feature was 1979's The Castle of Cagliostro in 1979, but his most famous features have all been made at Studio Ghibli, including My Neighbor Totoro, Porco Rosso, Spirited Away, Howl's Moving Castle and especially Princess Mononoke, which was the first animated film to win the Japanese Academy Award for Best Picture.
Miyazaki had once claimed that Princess Mononoke would be his final film, and he has put significant effort into shepherding other filmmakers in the last decade, including his son Goro Miyazaki , director of the recent From Up On Poppy Hill. It's significant that Poppy Hill-- which was written by the elder Miyazaki-- and virtually any other Japanese animated film is marketed through its connection to Miyazaki, possibly the only living Japanese director who could be named by most American audiences, period. When Miyazaki took the stage with Pixar's Chief Creative Officer John Lassester at Comic Con in 2009, he received a standing ovation bigger than anything else in the gigantic Hall H that year. You can watch the titan in conversation with Lasseter, through a translator, in this video below:
Celebrations of Miyazaki's work will doubtlessly be all over the Internet as news of his pending retirement spreads, but to get started, why not check out the trailer from his upcoming-- and possibly his last-- feature, The Wind Rises, which will be released by Disney in North America and is playing at the Toronto Film Festival this week. If you're not familiar, or not familiar enough, with Miyazaki's breathtaking style, this is a great place to start.
Your Daily Blend of Entertainment News
Staff Writer at CinemaBlend