Anna Karenina's Alicia Vikander Could Join Benedict Cumberbatch In Wikileaks Drama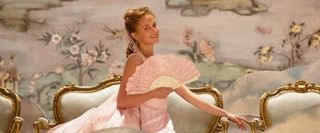 Swedish ingénue Alicia Vikander has been flirting with a breakthrough in America since her name was placed on the shortlist to front Snow White And the Huntsman back in the winter of 2010. Of course, Kristen Stewart ultimately landed that role, but it has hardly mattered for Vikander who drew notice this year just months after that feature's debut with two eye-catching roles of her own, in the Golden Globe nominated Danish romance A Royal Affair and Joe Wright's sumptuous adaptation of Leo Tolstoy's Anna Karenina.
Critics have been calling for more, more, more, and it seems Hollywood is listening, as Vikander's name has been mentioned for not one, but two promising projects in just the past week. Disney is considering her to front another live-action princess tale, Mark Romanek's Cinderella, and Variety reports DreamWorks is in talks with the striking young actress to join their untitled Wikileaks movie, which will be helmed by Oscar-winning screenwriter Bill Condon (Gods and Monsters).
Based on two separate sources, Daniel Domscheit-Berg's Inside WikiLeaks: My Time with Julian Assange at the World's Most Dangerous Website and David Leigh and Luke Harding's WikiLeaks: Inside Julian Assange's War On Secrecy, the biopic of the controversial founder of the whistleblowing website will star Benedict Cumberbatch as Assange, and Spanish star Daniel Bruhl (Inglorious Basterds) as technology activist Daniel Domscheit-Berg. Should she sign on to the film, Vikander would play a co-worker of Domscheit-Berg's, who evolves into a love interest.
Even though this seems to be a small role, it could prove a great opportunity for Vinkander to branch out farther into American cinema. Production on this untitled drama is expected to begin next year, but there are no specifics beyond that. So, it's currently unclear if landing this role might jeopardize her chances to play Cinderella.
Staff writer at CinemaBlend.
Your Daily Blend of Entertainment News
Thank you for signing up to CinemaBlend. You will receive a verification email shortly.
There was a problem. Please refresh the page and try again.