Ant-Man Will Be A High-Tech Spy Film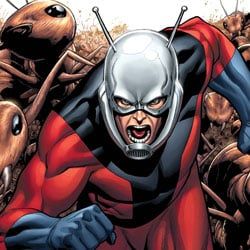 With the hype from Comic-Con's reveal of footage/teasers for Thor, Captain America and The Avengers starting to wane a bit, it's a good time to take a look at other superhero properties in development. In particular, and very appropriately considering the recent debut of Scott Pilgrim vs The World, there's been news on Marvel's Ant-Man. In a recent interview with Vanity Fair, director Edgar Wright revealed some interesting details.
While many doubt that character's ability to sell a film, Wright seems set on the project. And if his recent string of work is any indication, that's a really good sign. He says, "I've written a script, and once Scott Pilgrim is done I'm going to work on a second draft. It's something I've been passionate about for awhile."
In addition, and perhaps more interestingly, Wright revealed that the Ant-Man film won't be your typical superhero movie. And by that I mean, he's not so much a masked crimefighter, as a super spy. Yes that's right, Ant-Man is the new James Bond.
At the very least, that's putting an interesting and unique spin on the film that certain to draw some interest. For now, here's what we know about Ant-Man. Henry Pym and Scott Lang will both feature into the story, with Lang appearing in a flashforward. In addition, Wright has been researching nanotechnology, so expect that to play a role in the film. In an interview with Empire, he said that the movie will not be a straight comedy, but "more of a full-on action adventure sci-fi film but with a comedic element." Sadly though, Ant-Man will probably not feature into The Avengers, but you never know, there might be some subtle nudging or in-jokes; especially when you consider that both Pym and Lang were members of the Avengers at some point.
Your Daily Blend of Entertainment News
Thank you for signing up to CinemaBlend. You will receive a verification email shortly.
There was a problem. Please refresh the page and try again.