Ant-Man Loses Another Director As Rawson Thurber Passes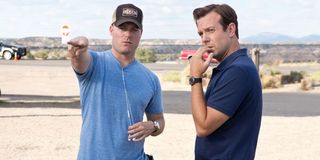 The way things are shaping up for Marvel's upcoming superhero adventure Ant-Man, its eventual onscreen drama will be eclipsed by its current behind-the-scenes drama. After years of development on the project, Cornetto Trilogy director Edgar Wright walked away, stunning fans. Hoping not to push the already announced release date, Marvel scrambled to find a reputable hired gun to helm the action-comedy that has Paul Rudd set to star. But today has seen the second of their three frontrunners turn Ant-Man down.
This is Famous reports Rawson Thurber, who made a name for himself helming the wildly successful R-rated comedy We're The Millers, has passed on Ant-Man. This news was seemingly confirmed last night from The Wrap reporter Jeff Sneider on Twitter:
After Edgar Wright and Marvel split over that old chestnut "creative differences," the blockbuster factory was looking at Rawson Thurber, Adam McKay of Anchorman, or Ruben Fleischer, best-known for Zombieland (and worst-known for Gangster Squad). Right off the bat, it was clear that Marvel was seeking to snag a helmer who has a proven talent for crafting comedy. And if they could manage it, some name recognition or flashy credits who be great.
This strategy favored McKay, who has memorably had some experience directing action in Anchorman and Anchorman 2's epic news anchor fight scenes, as well as the cop comedy The Other Guys. However, McKay was quick to turn down the project, siting a crowded schedule. It seems Rawson Thurber was Marvel's second choice for Ant-Man. Though rumored to be attached to We're the Millers 2, he doesn't appear to have the easy excuse of a overstuffed schedule. Still, he declined this offer to enter the Marvel universe.
In theory, this leaves Ruben Fleischer, who by my count is the weakest of the three contenders. Yeah, Zombieland was great, sharp and funny with a strong balance of horror gore and irreverent humor. But Fleischer doesn't appear to be developing as a director. His follow-up 30 Minutes or Less courted more controversy for its blithe treatment of a true-life crime (and death) than it did critical acclaim or commercial success. And Gangster Squad--for all its sexy stars and noir old school gangster appeal--was stunningly dull, flopping at the box office and becoming his worst reviewed movie to date. If Marvel does extend the offer to direct Ant-Man to Fleischer, I'd say we have reason to hope for its demise. But I should note, some of us are more hopeful.
Alternately, Marvel may now be forced to go back to the drawing board. If they do, tell us in comments who you'd like to see helm Ant-Man.
Staff writer at CinemaBlend.
Your Daily Blend of Entertainment News
Thank you for signing up to CinemaBlend. You will receive a verification email shortly.
There was a problem. Please refresh the page and try again.