Anthony Hopkins And Annette Bening Board Andy Garcia's Hemingway & Fuentes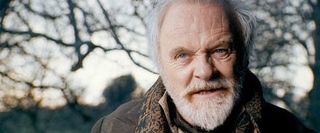 From heartbreaking books like Farewell to Arms and The Sun Also Rises to his blustering yet bruised bravado, American writer Ernest Hemingway has captured the interest and imaginations of artists since the 1920s. Actor turned director Andy Garcia has long been fascinated by the man, and has been working diligently to get Hemingway & Fuentes, a docudrama about his creation of The Old Man and the Sea, rolling since 2009. It was then that he secured Anthony Hopkins to portray Hemingway and Annette Bening to play his fourth and final wife, Mary Walsh Hemingway. But now Deadline reports Garcia has finally lined up financing for the feature, and so Hemingway & Fuentes has at long last set a start date for January of next year.
Garcia will not only direct the drama, but also co-star, playing Gregorio Fuentes, the first mate and close, personal friend of Hemingway. The screenplay penned by Garcia and Hilary Hemingway—niece of the legendary author—centers on the eponymous pair's time in Cuba in the 1950s, which inspired Papa to pen fisherman-centered novel that became a bestseller and won him critical acclaim including the Pulitzer Prize and the Nobel Prize for Literature.
Personally, I know little about this time in Hemingway's life, but the cast on its own is compelling, pairing it with a Hemingway narrative is just gravy. Garcia's long been a solid performer, and four-time Academy Award-nominee Bening has proved time and time again to one of our greatest living actresses. But Hopkins as Hemingway? That's the kind of casting I dream of. After Corey Stoll's rightly heralded portrayal of a younger Papa in Midnight in Paris, Hopkins sure to be growling and intense performance could well be the pitch-perfect follow-up. After this, we may have to retire Hemingway as a movie character, because it's hard to imagine Hopkins will ever be topped.
Staff writer at CinemaBlend.