Anthony Hopkins As Xenia Onatopp? Rumored For James Bond's New Villain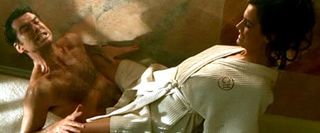 This story starts with a warning: Don't believe anything you're about to read. It comes from the most unreliable British tabloid in existence, a publication proven to falsify information in order to generate interest. There's no way this is true, but we're reporting it anyway, because we don't filter the news, we just tell you about it and leave the rest up to you. Besides, wild speculation is fun, and movie talk is supposed to be fun, isn't it?
The Sun claims Sir Anthony Hopkins could be the villain of the next Bond movie. They cite a vague, unspecified source who says the only thing holding the deal up is the number of films MGM wants him to commit to.
While it's true that Hopkins plays a good villain, he has played so many bad guys by now that it's rapidly becoming a cliché. You know what the next Bond movie doesn't need? A cliché. And while it's true that the best Bond movies often have great bad guys, that doesn't necessarily mean they have memorable criminal masterminds. In my mind GoldenEye is still the best Bond movie, and who's the movie's most memorable villain? Xenia Onatopp, the Famke Janssen played hitwoman who kills men by seducing them into her bed and crushing them beneath her thighs. Anthony Hopkins is no Xenia Onatopp. I don't think he even wears high-heels. If they hire Hopkins, he'll definitely be some sort of criminal mastermind. That's what he does.
Chime in Bond fans, would you like to see Anthony Hopkins facing off against Daniel Craig as James Bond's next foe? Let us know in the comments below.
Your Daily Blend of Entertainment News