Anton Yelchin Joins Jim Jarmusch Vampire Drama Only Lovers Left Alive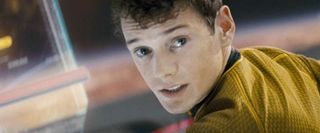 It was just a couple of days ago that I admitted fatigue on all things undead, but leave it to inscrutable indie auteur Jim Jarmusch to turn my head with casting news on his latest, Only Lovers Left Alive, a drama about the centuries-long romance between two star-crossed vampires. While most directors' concepts for such a premise would likely include plenty of wire stunts, camp theatrics, and buckets of blood, I can't imagine the Dead Man director doing anything so obvious, which is part of what makes this vampire feature so slyly intriguing.
When the film was first announced, art house-adored actors Tilda Swinton, Mia Wasikowska and Michael Fassbender were slated to star in what Jarmusch described as a "crypto-vampire love story" set in Tangiers and Detroit. The three would play vampires, but as to who the central pair of lovers would be remained a mystery. Celebrated character actor John Hurt also signed on to tackle a feature role, and just this January new surfaced that The Avengers' Tom Hiddleston stepped in to replace Fassbender, but with no further updates on the film's mysterious characters.
Even now, as Deadline reports Anton Yelchin has signed on to the film, which is slated to shoot this summer, there's no word on whom he might play or how his role relates to the rest of the cast. The production team's secrecy here is both vexing and exhilarating, forcing film fanatics to playing a sort of mental puzzle game to figure who would be the most Jarmusch-like pair of vampire lovers?
Will the strangely beautiful Swinton, who has appeared in his last two efforts Broken Flowers and The Limits of Control, make exceedingly angular love to the similarly gorgeous Hiddleston? Or is Jane Eyre a clue that what was once Fassbender's role is to be Wasikowska's gloomy love interest once more? Or will it be the film's youngest pair, Wasikowska and Yelchin who will fall into eternal and torturous love?
Personally, I'm pulling for the first, but betting on the second, as it seems unlikely Yelchin would be cast so late in the game if his role was so key. Regardless, Yelchin is a strong addition to this cast. For though most often remembered for roles in J.J. Abrams Star Trek and the 2011 remake of Fright Night, he has offered solid performances in daring indie efforts, including the 2011 Sundance hit Like Crazy and controversy-courting Mel Gibson drama The Beaver. In short, whatever the configuration of its cast, Jarmusch's Only Lovers Left Alive seems sure to breathe a curious new life into the vampire genre.
Staff writer at CinemaBlend.