Simon Pegg Doesn't Think More Star Trek Movies Are Coming, For Lack Of 'Marvel Money' And More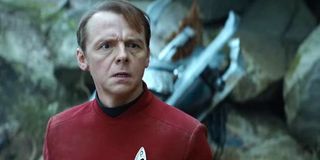 If you've been holding out hope for a new Star Trek film, you should probably get ready for some bad news. Despite the popularity of the 21st century reboot, and ongoing discussion of a potential Quentin Tarantino film, it sounds like the franchise on a whole may be on an indefinite hiatus. Star Trek star Simon Pegg thinks there's more than one reason why we won't be getting any new movies -- but the biggest one is the lack of "Marvel money."
Since 2009, there have been three entries into the Star Trek film franchise. There was 2009's Star Trek, which grossed a respectable $385.6 million. The follow-up, Star Trek Into Darkness, saw a worldwide gross of $467.3 million -- again, not too shabby. The third movie, Star Trek Beyond, came out in 2016 and made $343.4 million. But if you ask Simon Pegg why Paramount Pictures doesn't seem to be in a rush to offer up another installment, it sounds like the box office revenue just wasn't quite enough (via GamesRadar+):
The unfortunate reality is that Simon Pegg may very well be right. Over the past few years, we've seen a resurgence in film franchises not only with the MCU, but also DCEU, Disney, and Star Wars. By comparison, for example, Avengers: Endgame and Captain Marvel easily crossed the billion dollar threshold last year. Even Star Wars: The Rise of Skywalker, which wasn't exactly popular with fans, hit a billion dollar gross worldwide. Though the Star Trek films definitely proved to have a box office draw, they simply haven't been on the same level.
Simon Pegg -- who played beloved engineer Scotty in Star Trek, Star Trek Into Darkness, and Star Trek Beyond -- does put some onus on the powers that be for not fully capturing the potential for revitalizing the franchise:
But he also thinks that even if they were able to get a green light for another Star Trek installment, it might be difficult for the cast and crew to get on board following the tragic death of their co-star Anton Yelchin in 2016:
Basically, it seems like the deck is stacked against another big screen Star Trek reboot at this point. That doesn't mean it will never happen -- just that it's not something that anyone involved seems particularly keen to explore. We'll have to see what the future holds for the franchise.
Your Daily Blend of Entertainment News