The Assassin's Creed Trailer Without Kanye West Is So Much Better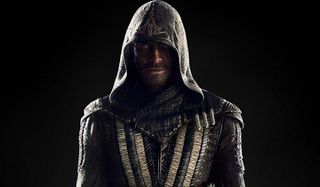 We absolutely love movie trailers. That 15-minute period of previews before the movie starts always gets us insanely excited for what's coming later in the year. However, not all trailers are created equally, and sometimes fans manage to cut trailers even better than the professionals ever could. One particular fan recently re-cut the trailer to Assassin's Creed by removing Kanye West, and we think it represents a definite improvement. Check it out below.
Anyone who has seen the original trailer for Assassin's Creed will notice that not much has changed in this new version. The short preview still shows Michael Fassbender's Callum Lynch waking up at an Abstergo facility and becoming acclimated to the Animus as he learns the lethal skills of his ancient Assassin ancestor. However, this version of the trailer swaps out Kanye West's "I Am God" track with a traditional orchestral melody that more or less seems like a stronger fit to the dual settings of the film.
Ultimately, the rationale for this trailer representing an improvement over the original version stems not from musical preference, but the fidelity it has to the source material. The music used in this new version of the trailer is actual music from the Assassin's Creed video game franchise, and as such it simply feels much more true to what we have come to know and love from the series. In all honesty, it always just felt somewhat silly to have Kanye West music playing over a trailer for a film that will take place during the Spanish Inquisition; it was undeniably cool, but still... silly.
This phenomenon has become incredibly common in the world of video game movies. Another stealth game adaptation – Hitman: Agent 47 – similarly cut a trailer last year using a hard rock cover of Jimi Hendrix's "Voodoo Child," which in no way shape or form matched the tone of its source material. It's almost as if the editors cutting these trailer know nothing about the source material being adapted.
Of course, for the sake of fairness, we will let you be the judge as to which trailer actually represents the superior of the two. Here is the original trailer for the upcoming Assassin's Creed movie so you can decide for yourself:
What do you think? Was the trailer good, or was it improved by the removal of Kanye West from the equation and throwing in music from the actual Assassin's Creed universe?
Regardless of your opinion on either of these trailers, the fact remains that Assassin's Creed still looks like one of the best video game adaptations of all time – although that's not saying much. We will know for certain how good it is when it hits theaters later this year on December 21.
Originally from Connecticut, Conner grew up in San Diego and graduated from Chapman University in 2014. He now lives in Los Angeles working in and around the entertainment industry and can mostly be found binging horror movies and chugging coffee.
Your Daily Blend of Entertainment News
Thank you for signing up to CinemaBlend. You will receive a verification email shortly.
There was a problem. Please refresh the page and try again.