Aubrey Plaza Will Star In The Hand Job, If Anyone Will Make The Movie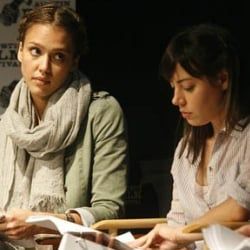 Aubrey Plaza has been hilarious for two seasons now as the sardonic, utterly over it teenage intern in the Pawnee, Indiana government on Parks and Recreation but the 26-year-old is probably running out of time to play any other high school roles. That's why time is of the essence on The Hand Job, a teen comedy that made the 2009 Black List of best unproduced screenplays but has yet to be picked up by anyone with the money to make it. Plaza is attached to play the role, and at the Austin Film Festival on Sunday, she and the likes of Jessica Alba, Bill Hader, Daryl Sabara, Colin Hanks and Alexa Vega gathered for a staged reading of the screenplay to prove how much it deserves to be made.
Why did this particular unproduced screenplay get such special, celebrity treatment? Well according to Cinematical, who were on the scene for the ready, the writer Maggie Carey is married to none other than Bill Hader, which means she probably knows a whole lot more funny people than you or I will ever meet. Lest you worry it's all nepotism, though, Cinematical says the script has the goods, and that it manages to give us a coming-of-age comedy about a sexually curious young woman "gracefully and with a lot of humor, ranging from gentle to downright raunchy." The title is exactly what you think it is-- Plaza's character is a recent high school graduate who decides she needs more sexual experience before she can start college.
Getting movies made these days is hard no matter how many celebrities you know, and honestly, the concept behind Hand Job sounds to promising I don't even want to get my hopes up. But if there's somebody out there who wants to make this, get on it! Aubrey Plaza ain't gonna be fresh-faced and youthful forever, y'know.
Your Daily Blend of Entertainment News
Staff Writer at CinemaBlend