The Batman V Superman Retro Trailer Is Wonderful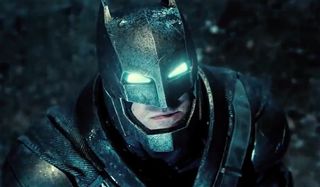 Holy retro reboot, Batman! While DC and Warner Bros. officially released the first Batman v Superman trailer this past week, one crafty fan decided to take it to the next level. Taking footage of Christopher Reeve and Adam West as the old-school Man of Steel and Caped Crusader, he created a retro version of the trailer, which we should've all expected considering, you know, this is the Internet.
Bobby Burns is a self-described filmmaker, film critic and general lover of films, though he's also handy when it comes to making viral-friendly mash-ups. He recut Pixar's Up in the style of a horror movie, he recut the original Star Wars movies in the style of the Force Awakens trailer, and he made a pretty stellar "The Dark Knight VS Avengers" critical analysis that has racked up nearly 50,000 views on YouTube. For his latest project, he set his sights on Batman v Superman.
The footage is ripe for parody, as is all things on the internet. Reeve's Superman compliments the original trailer's foreboding voiceover fairly well. Of course, watching footage of West's Batman running through the streets with a cartoony bomb pretty much takes the whole "dark and gritty" aspect out of it. Nevertheless, if Hollywood were to make Batman v Superman back in the day, this is probably what it would look like. Watch the official trailer below, and see how it compares.
A rumor has been making the rounds for quite some time that claims WB has a "no jokes" policy on their superhero movies. If that's the case, we should just look to YouTube to fill in that quota for us. Marvel Studios has been utilizing comedy from the comics for the better, and we still have hope that DC could do the same. So far, though, Batman v Superman looks way too dark to have any sort of light and fun side. Man of Steel was a great film (depending on who you ask), but some critics thought director Zack Snyder took the property too seriously. And this next installment of the DC universe seems to follow the same trajectory.
Overall, though, it looks pretty cool. The Batman v Superman trailer revealed Henry Cavill's return as Superman, Ben Affleck's arrival as Batman and confirmation on the film's plot. In the post-Man of Steel world, humanity is split over their so-called savior. Kal-El may have saved the world from General Zod, but his God-like powers incite his critics and aggressive haters, such as Lex Luthor (Jesse Eisenberg). Seeing him as a tyrant succumbing to the corruption of his alien abilities, Bruce Wayne believes he must be stopped.
Hopefully not with one of those Mario Kart-esque explosives.
Your Daily Blend of Entertainment News
Your Daily Blend of Entertainment News
Thank you for signing up to CinemaBlend. You will receive a verification email shortly.
There was a problem. Please refresh the page and try again.