How Jesse Eisenberg Felt About Shaving His Head To Play Lex Luthor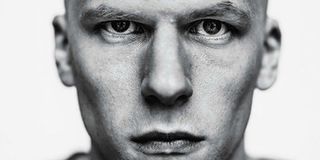 Jesse Eisenberg probably didn't have to think too long or hard about signing up to portray Lex Luthor in Batman V Superman: Dawn Of Justice. But one thing that might have slipped his mind while negotiating to join the blockbuster was that he would have to shave off his fabulous curly mane in order to play the iconic foe. And he's now admitted that when the time came to do just that, it was "terrifying."
The Oscar nominated actor made the admission during his appearance on Late Night With Seth Meyers on Thursday night, and after being probed about how it felt to shave off his head Eisenberg proclaimed:
Seth Meyers rightfully pointed out that Eisenberg's admission immediately made Lex Luthor less intimidating as a character. Especially when Eisenberg added that having his scalp on show just made him want to wear a helmet to try and protect himself from doing damage to his dome.
The usually innately neurotic and intense Jesse Eisenberg looked somewhat at ease on the couch talking to Seth Meyers. Having already met the host while he, himself, was hosting Saturday Night Live, Eisenberg was able to quip about how peculiar it was on set seeing Henry Cavill walking around in his Superman costume. In fact, he explained that when Cavill was walking to set, he wore baggy sweatpants to cover up the attire to both keep the super-suit away from the prying eyes of the press and to keep the English actor from looking like a complete fool.
You can check out Jesse Eisenberg's entire chat with Seth Meyers that he conducted to promote his play The Spoils, which he wrote and stars in alongside The Big Bang Theory's Kunal Nayaar, in all of its glory below:
While Ben Affleck's casting as Bruce Wayne/Batman was met with a sway of criticism across the internet and beyond, Jesse Eisenberg's casting was, instead, met with gentle nods of enthusiasm. And why wouldn't it? Eisenberg has fabulously evolved as an actor ever since his breakout role as Walt Berkman in Noah Baumbach's The Squid And The Whale. And he achieved this by consistently choosing eclectic parts, each of which he managed to mould his idiosyncratic, neurotic but charming personality around.
Less intense and more mainstream efforts like Adventureland, Zombieland, 30 Minutes Or Less and Now You See Me have been coupled with the more thought-provoking selections of To Rome With Love, The Double, Night Moves and The Social Network. And it was his performance as Mark Zuckerberg in David Fincher's morbid presentation of how Facebook came to be that proved Eisenberg was capable of elevating an event picture with his presence.
And I for one can't wait to see how he sinks his teeth into one of the most outlandish and conniving comic-book foes in existence. In fact, I wouldn't be surprised if Jesse Eisenberg steals the whole movie away from the titular heroes. Batman V Superman: Dawn Of Justice will be released on March 25, 2016, and it promises to be kind of a big deal.
Your Daily Blend of Entertainment News
Thank you for signing up to CinemaBlend. You will receive a verification email shortly.
There was a problem. Please refresh the page and try again.