Official Batman V Superman Trailer Arrives In HD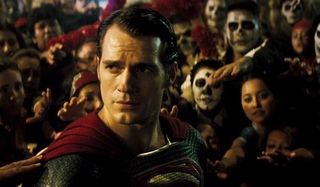 Yesterday, the first teaser trailer for Warner Bros.' hotly anticipated Batman v Superman: Dawn of Justice hit the internet, for a brief time. After it had been up for a short while, it was taken down, but now it's back, as WB has released an official HD look at the film that pits DC Comic's two greatest heroes against one another. Check it out below, it's glorious.
This footage definitely fits in with the dark, gritty tone that DC is going for when bringing their iconic comic book titles to life. It also raises some troubling questions about Superman (Henry Cavill). In fact, you get the distinct impression that he's turning heel, at least to a significant degree. You see him standing in front of flaming wreckage with a stern look on his face, and that group of soldiers appears to be kneeling in his presence, as if he's some kind of monarch or dictator. Even the way that the opening voiceovers talk about him, it makes it sound like, not only is it very obvious that he's powerful, but that maybe he's done some things with that that aren't so great. Especially the line, "We know better now, don't we," gives you pause.
That would certainly be a change from how we usually see the Man of Steel. He's the ultimate Boy Scout, the ultimate good guy, but it certainly looks like he's been abusing his power, setting himself up as a god, or at least something similar. People don't usually chant, "Go Home, Go Home, Go Home," at people they really love, admire, and appreciate.
If this is really the case, however, it will certainly explain why Ben Affleck's Batman feels the need to step in and deal with him. And if anyone can stop a rogue Kryptonian, the Dark Knight certainly has the hardware and know-how to do it. You get a glimpse of a few toys Bruce Wayne and his alter ego have to play with. There's what looks like the Batwing and the Batmobile, as well as solid look at this incarnation of the Batsuit. Perhaps coolest of all, however, is that suit of armor you see near the end. It looks like something that could have come into play in The Dark Knight returns, Frank Miller's comic art that also sees these two heroes go head to head.
That, without a doubt, is the coolest part of this whole trailer. It's stated in the title, and that's what we really want to see—Batman and Superman facing off and throwing down. We obviously don't get to see any of the action just yet, but that grim, rain-soaked standoff is a hint of something awesome to come. Throw in tough-guy lines like, "Do you bleed? You will," and we have the makings of an epic superhero showdown for the ages.
The full trailer was originally supposed to premiere Monday at special IMAX events across the land, but it leaked online early, which is likely what prompted the release of this trailer. But don't worry if you were planning to attend, as director Zack Snyder and WB still plan to make the trip worth your while. Snyder tweeted this:
So if you still go on Monday, not only will you get to see this trailer, you'll be treated to some exclusive extra footage as well. From the sound of it, you might even walk away with some cool movie related swag and be the envy of every kid on your block. Not a bad deal. And Snyder certainly has a point about watching this in IMAX as opposed to seeing a grainy, out of focus cell phone video. The difference promises to be monumental.
Batman v Superman: Dawn of Justice hits theaters everywhere March 25, 2016. Let us know what you think about this new look.
Your Daily Blend of Entertainment News