The Batman v Superman Fight Won't Be As Lopsided As We Thought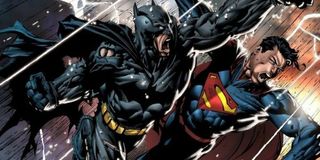 The Batman v Superman: Dawn Of Justice fight scenes between its two leads will consist of a cocky billionaire going toe to toe with an alien who really doesn't have any weaknesses at all - but apparently this won't be as preposterously one-sided as one might think it would be. That's according to Guillermo Grispo, who worked alongside director Zack Snyder to choreograph the blockbuster's tussles.
Grispo spoke to Los Andes Diaro, a Spanish website, about his efforts on Batman v Superman: Dawn Of Justice, and during the interview (translated by Batman-News.com) the choreographer revealed that Ben Affleck's Dark Knight will have a few tricks up his sleeve when it comes to his showdowns with Henry Cavill's Man of Steel. Grispo admitted that most moviegoers will assume that Batman/Bruce Wayne won't stand much of a chance at all when it comes to even laying a punch on Superman, but he explained why that won't actually be the case. Translated from Spanish, he said,
Thinking about this, one immediately has to wonder if it means that kryptonite could be involved in some way or another (taking yet another page out of Frank Miller's The Dark Knight Returns. Or maybe Jesse Eisenberg's Lex Luthor has a hand in bringing Superman down to a level playing field, which then allows Batman to use his cavalcade of dangerous toys to inflict pain on Krypton's most famous son. Unfortunately, as you'd expect, Guillermo Grispo didn't go into any further details regarding Batman v Superman: Dawn Of Justice's fight scenes. This was probably the right thing to do given how insanely secretive and strict Hollywood studios have been when it comes to spilling details about upcoming tentpoles.
Going further during the interview, Guillermo Grispo's added that when Batman and Superman do tussle in the hugely anticipated sequel to Man Of Steel that it's one of the most important scenes in the blockbuster. He would certainly be in a position to know, given that he has a long history of working alongside Zack Snyder on projects like 300, Sucker Punch and Man Of Steel.
It's exciting to think about what Batman v Superman: Dawn Of Justice's action sequences will be bringing to the table For all of its faults - and there were quite a few to contend with - Man Of Steel possessed some of the most pulverizing, relentless and audacious fight scenes in recent blockbuster history. Zack Snyder was able to create cohesive hand-to-hand action that still managed to zip by furiously while also remaining clear and surprising. Yeah, Man Of Steel's finale went on too long, but its Smallville battle proved that Zack Snyder does possess the ability to direct the hell out of a big battle.
We'll get a taste of what Batman v Superman: Dawn Of Justice's fight scenes will be like when its first trailer is (hopefully) released at some point over the next few weeks.
Your Daily Blend of Entertainment News
Thank you for signing up to CinemaBlend. You will receive a verification email shortly.
There was a problem. Please refresh the page and try again.