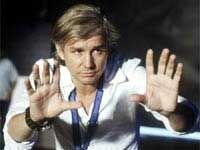 Moulin Rouge director Baz Luhrmann is back to wasting time. A few years ago he spent his minutes and dollars battling with Oliver Stone to see who could get a movie version of the life of Alexander first into theaters. Stone won (sort of) and so Baz's version went unmade. Now it's happening again, his newest film project is falling apart.
The movie he's been working on is supposed to be an Australian Gone With the Wind, but now it may be just gone. The film's start date has been pushed back from September to February. You'd think with big stars like Russell Crowe and Nicole Kidman reportedly on board Baz would have no trouble getting this thing going, but the project is apparently so big and so expensive that they're having trouble getting things set. Fox isn't happy with the untitled film's $150 million dollar budget, most of which Luhrmann was planning to use in recreating not only the Australian Outback but also Word War II. When you think about it, $150 million is a pretty good price for a war. The United States spent that much in Iraq just while you read this sentence.
Also at issue are the schedules of Crowe and Kidman. Whenever you hire a big name actor, you hire their hectic schedules along with them. Russell is signing up for other projects rather than flying over to Australia for Baz and Nicole has a lot her plate as well.
Baz is an incredibly interesting director, but never seems to get the right breaks. His projects don't turn into the disasters of Terry Gilliam, yet he does seem to spend an unusually long time between projects. His first film was Strictly Ballroom in 1992, and since then he's only directed two other films.
Your Daily Blend of Entertainment News