Baz Luhrmann Names His Next Movie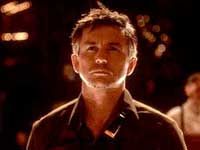 Baz Luhrmann is one of film's most interesting directors, unfortunately he's also one of the least productive. After his first movie Strictly Ballroom in 1992, it took him four years before he finally released Romeo + Juliet. Since then, his downtime between movies has only grown. Five years between Romeo + Juliet and Moulin Rouge, and now at least seven years will pass before he makes another movie. A movie which now has a title, if not an actual shooting schedule.
The guys over at Coming Soon have found a blurb in the Australian publication The Age where Baz announced the title of his long gestating new film. Till now all we've know about it is that it'd be an epic Australian cattle drive against the backdrop of the World War II bombing of Darwin by the Japanese. Oh and expect a heavily Australian cast. So the name should be obvious. Hold on to your hats folks. "The name is shocking," joked Luhrmann. He's calling it Australia.
Perhaps even more important than the name is news that the film has been greenlit by Fox and rowdy Russell Crowe has been ditched in favor of other Australian celeb Hugh Jackman to star opposite Nicole Kidman. They're making it entirely in Australia, they've got $100 million to play with, making it one of the most expensive movies ever made in the land down under.
Luhrmann says other names considered were Great Southern Land and Faraway Downs, but Baz wanted something more epic. He patterned his choice in names after big, location named epics. The director says, "when you say Casablanca or Oklahoma! it means big. It means vast … I'm not saying this film is Australia. It's a metaphor for a state of mind, for the faraway."
Your Daily Blend of Entertainment News
Thank you for signing up to CinemaBlend. You will receive a verification email shortly.
There was a problem. Please refresh the page and try again.