Beau Garrett Suits Up In This New Tron: Legacy Poster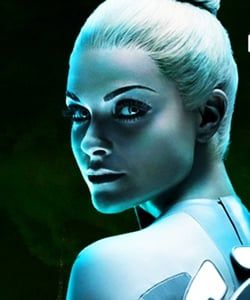 Up until now, Tron: Legacy could be described in one word: cool. It just looks cool. There's no getting around it. And the little bit of sexy has been placed solely on the shoulders of Olivia Wilde. But thanks to this new Hungarian poster at kinopoisk.ru (via /Film), some of that weight has been shifted to the sexy Jem, played by Beau Garrett.
In the film, Jem is the leader of the sirens, the group that operates the armory within the grid, dealing out the weapons necessary for the games. As with every other piece of media released for this film, this poster is totally badass and only helps to whet my appetite for Tron even more.
Scope out the image below, and do your best to contain yourself until December 17th. To see the image in high-res, head over to kinopoisk.ru.
Your Daily Blend of Entertainment News