Ben Stiller Turned Down Good Will Hunting, Here's Why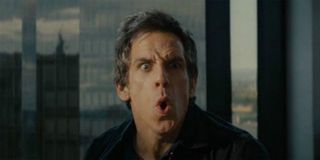 Ben Stiller has admitted that he turned down the opportunity to make Good Will Hunting for what, in retrospect, is a rather silly reason: he didn't know who Ben Affleck and Matt Damon were. And though he admitted that it doesn't keep him up at night, he does call it one of his biggest regrets.
The actor/adirector made this admission while talking to Vulture about his upcoming performance in Noah Baumbach's While We're Young.Asked if there was anything that he regretted about his own life in his 20s and 30s, Stiller admitted that he shouldn't have turned down the chance to direct Good Will Hunting. He explained,
Good Will Hunting, directed by Gus Van Sant, went on to receive huge critical acclaim when it was released in 1997, and it also grossed an impressive $225 million from its relatively small $10 million budget. And the Affleck and Damon pair that Ben Stiller so easily dismissed not only went on to collect Best Original Screenplay awards at the following year's Oscars ceremony, they have also blossomed into two of the most popular actors in Hollywood.
Despite the success of Good Will Hunting, however, Stiller admits that he doesn't harbor any real major regrets about turning down the chance to direct the film. In fact, he explained that there were many other hard decisions that he had to make throughout his career, which resulted in him picking one project over another. Stiller admitted, "I am happy with the choices I've made because they've gotten me to where I am today and I've learned from them."
Despite going on to achieve such acclaim, Good Will Hunting was actually turned down by a number of impressive filmmakers as Miramax developed it. Steven Soderbergh, Michael Mann, and Mel Gibson each briefly considered the script before moving onto new pastures. Meanwhile Kevin Smith, who helped to get Harvey Weinstein and Miramax involved in the project, was even asked if he might be interested in directing. Smith was able to immediately recognize his limitations, though, and told his pal that they needed a "good director" instead. They found that in the shape of Gus Van Sant, who was pursued by Miramax, Affleck and Damon and eventually agreed to direct Good Will Hunting.
And it's hard to imagine Good Will Hunting being overseen by anyone else. Not only did Gus Van Sant squeeze out stellar performances from Ben Affleck, Matt Damon and Robin Williams (who picked up a Best Supporting Actor for his work), but he also brought pathos and melancholy to the film's rather predictable, but still elegantly written story that helped to make it stand-out. It's something that I'm not confident Ben Stiller would have managed.
Your Daily Blend of Entertainment News