How Kevin Smith And Mel Gibson Could Have Directed Good Will Hunting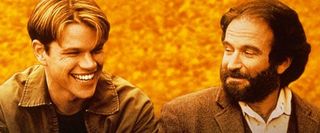 1997's Good Will Hunting was a game-changer on several fronts. Produced by Miramax, it was part of the wave of cinema that made the mainstream aware of independent film. It launched the careers of bffs Matt Damon and Ben Affleck and made them Academy Award-winning screenwriters. After three previous attempts, it was this intimate drama that won Robin Williams his first Oscar. It also proved a tipping point for daring director Gus Van Sant, who earned his first Oscar nomination for the film, which is still often regarded as his best.
Fifteen years have passed since Good Will Hunting made its debut, and to celebrate Boston Magazine spoke with the Damon and Affleck about the movie that—among many other accomplishments—briefly made the Boston accent sexy. Amid the more surprising bits of behind the scenes information the pair shared were a couple of the other directors that had been offered the movie, namely Kevin Smith and Mel Gibson.
In retrospect it seems almost impossible to imagine anyone but Van Sant directing Good Will Hunting, but he was not the first approached. When Damon and Affleck were struggling to stir interest in their script, Affleck sent it to Smith, who had directed him in Mallrats. However, though the bad boy filmmaker was entranced by the script—reportedly starting it on the toilet and staying planted their the whole time, too engrossed to get up—he decided he wasn't right for it, telling Affleck, "I wouldn't dare direct this movie, this is so beautiful."
Thankfully, Harvey Weinstein took an interest shortly thereafter, saving the movie's sharply dwindling prospects. As a movie marketing master, Weinstein thought the way to get attention for the then starless movie (Williams hadn't yet signed on) would be to snag a hot director like Gibson, who was awing audiences and critics with his recently debuted Braveheart. He was interested, and even developed his version for a few months, but Damon and Affleck grew restless fearing they were quickly growing too old for the roles they'd written for themselves. So, Gibson respectfully left the project. Shortly thereafter Van Sant signed on, and the rest is movie history.
Staff writer at CinemaBlend.
Your Daily Blend of Entertainment News
Thank you for signing up to CinemaBlend. You will receive a verification email shortly.
There was a problem. Please refresh the page and try again.