Benedict Cumberbatch Insists He's Not Khan In Star Trek Into Darkness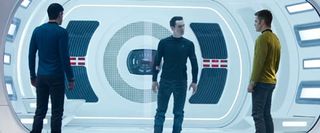 Earlier this week Paramount released an image from Star Trek Into Darkness that seemed to finally clear up what was one of its biggest mysteries: who, exactly, is Benedict Cumberbatch playing? The photo caption identified him as John Harrison, a character totally new to the Trek universe, which seemed to belie what had been near-constant rumors that Cumberbatch's villain character was, in fact, Khan.
Khan. You remember him from Star Trek II: The Wrath of Khan, right? Maybe the best Star Trek movie ever on film, and certainly a gold standard for sequels? J.J. Abrams and company would probably be crazy to attempt to bring back a character as iconic as Khan, but the rumors have hounded them anyway… to the point that plenty of people are assuming John Harrison is an alias, and Cumberbatch will eventually reveal himself as Khan anyway.
Turns out, Cumberbatch himself has heard the rumors, and talking to Access Hollywood he took one more opportunity to explain his non-Khan character:
Of course, Star Trek fans can look to parts of that description-- "an extraordinary purpose" and "you might even sympathize with the reasons he's doing what he's doing"-- and realize those apply perfectly well to Khan anyway.
But this gets into what I was just ranting about regarding Batman and Superman: if Cumberbatch really is playing Khan, do you want to know? Clearly Abrams and Paramount want you to think he's playing a guy named John Harrison, and isn't it more fun to accept that at face value and be surprised if the twist arrives? Sure, some people want to be constantly savvy and claim they knew it all along… but I will totally embrace a surprise if it comes. So while you all try to parse if Cumberbatch is lying, I'm going to look forward to meeting this mysterious John Harrison-- and if he's got some surprises up his sleeve, all the better.
Your Daily Blend of Entertainment News
Staff Writer at CinemaBlend