The Blob Is Getting Remade, Get The Specifics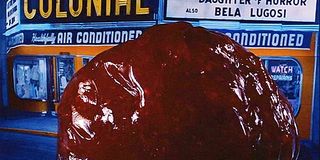 The upcoming remake for one of the most important and seminal films in the sci-fi/horror genre has reportedly nabbed a director. The Blob, the 1958 schlock classic depicting a monstrous gelatinous mass that consumes everything it encounters will reportedly be getting a modernized action treatment with director, Simon West behind the camera.
According to Deadline, West, the director of modern action-classic, Con Air, along with Angelina Jolie's first Tomb Raider film and the aging action star sequel extravaganza, The Expendables 2 will begin shooting what looks to be an exciting, action-centric insidiously amorphous remake this summer.
Apparently long in the making, going back to 2009, this remake project at one time had Rob Zombie attached and will now move forward with a director known primarily for straight-forward, in-your-face action sequences. While West's body of work doesn't seem to indicate any specific stylistic direction for this new imagining, it is apparent that the progress of visual effects technology will be playing a tremendous role in the presentation and the director has made his intentions of creating an immersive "world" perfectly clear. According to West:
The Blob would see a notorious 1972 sequel and a hype-heavy 1988 remake starring future Entourage actor, Kevin Dillon that failed to make a serious financial dent. Considering the remake-happy habits of Hollywood, it's been a relatively untouched property, so a remake at this time is probably not an outrageous proposition.
Exactly how this property will redefine itself in the early twenty-first century remains a mystery. However, if this comment from the managing director of the co-producing studio, Goldcrest Films, Pascal Degove is any indication, the film may not carry itself too seriously, given the ridiculous premise.
The Blob has always been a classic cinematic curiosity. Besides introducing mainstream audiences to a young Steve McQueen, it was an interesting aberration from the typical popcorn flicks of the time. In an era (the 1950's) which mostly saw the release of an unyielding phalanx of disposable "Atomic Age" monster films playing to the idea that radiation makes things huge and malevolent, The Blob gave audiences a completely original antagonist. This enemy didn't have a face, wasn't able to speak and certainly didn't seem to be carrying out a specific agenda of any kind other than to consume and get bigger. The titular crimson bloated Blob itself also proved to be exceptional in the fact that radiation played no part in its genesis. It fell to Earth inside a meteorite and began its rampage by victimizing the old farmer who was unlucky enough to find its crash site in rural Pennsylvania. Yet, its space-related origin did not manage to ooze the film into the conventions of the alien invasion genre that notable contemporaries like The Day the Earth Stood Still or Invasion of the Body Snatchers would exhibit.
No release date has been projected as of yet for this gigantic gelatinous remake.
Your Daily Blend of Entertainment News
Thank you for signing up to CinemaBlend. You will receive a verification email shortly.
There was a problem. Please refresh the page and try again.