Upcoming Blumhouse Horror Movies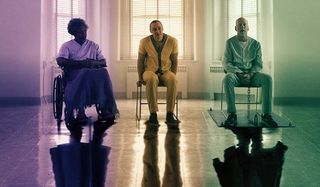 Since the release of 2009's Paranormal Activity, Blumhouse Productions has been a name that's synonymous with horror blockbusters. That reputation only grew with the addition of hit franchises like Insidious and The Purge, as well as award-winning surprises like Jordan Peele's Get Out. To cap off all of the amazing happenings that have occurred under producer Jason Blum's roof, he's also successfully revitalized the legendary horror franchise Halloween as part of his genre juggernaut. Though the company hasn't always been solely about all things horror. With the production company having been in the business for almost 20 years, they've touched various genres and even have an animated film on the books for 2021, entitled Spooky Jack.
Blumhouse's bread and butter is still generally considered to be the horror genre, though. With the boom in horror still showing box office strength and Halloween making great strides for the company's bottom line in 2018, it's a good time to look forward into the future of Jason Blum's bountiful empire. So for the purposes of the following list, we'll be locked in specifically on what's coming from the corner that deals with the scary and the mysterious realm of horror/thrillers. Also, past a certain point, these titles will be subject to change. So be sure to check back often for updates. Now, let's open the gates and see what Blumhouse Productions has in store to scare the living hell out of the world in 2019 and beyond.
Thriller
The concept for Thriller is pretty simple, but it sounds awesome. Take your standard "prank gone wrong" story that spawns a vengeful killer, set it during Homecoming weekend in south central L.A., and let it rip for a modern audience to latch onto. Thriller acts as the directorial debut of Dallas Jackson, and stars a cast of newcomers like Jessica Allain and Luke Tennie, as well as established actors such as RZA and Mykelti Williamson. Yet another festival darling that took its bow during last year's LA Film Festival, Thriller has snagged a Netflix distribution deal, and will bow soon as one the platform's original films.
Release Date: 3/31/19
Ma
Usually, if a group of kids befriends an older lady, you'd think something heartwarming would come of it. In the case of director Tate Taylor's Ma, the teens who befriend Octavia Spencer's central character are going to have something to fear as a result of paling around with her. A horror film bringing the director and co-star of The Help back together makes for quite the reunion, and seeing as Spencer won an Academy Award off of their last pairing, there's a chance that lightning could strike twice. Co-starring Luke Evans, Juliette Lewis, and Allison Janney, Ma went into production this past February. Slated for a Memorial Day weekend release, this could be the horror hit that this summer needs.
Release Date: 5/31/19
The Hunt
If you're a fan of Blumhouse Production's hit horror/thriller franchise, The Purge, then The Hunt will not only sound very familiar, it'll probably be right up your alley. Starring GLOW's Betty Gilpin and It's Always Sunny In Philadelphia's Glenn Howerton, the film is said to be about a group of "working class" people that are pursued by folks that would like to have a word with them. And by have a word with them, we mean kill them. The film was written by Lost and Prometheus mastermind Damon Lindelof, and has Z For Zachariah's Craig Zobel in the director's chair, with production set to complete in early April and its release being bumped to mid October.
Release Date: 10/18/19
Boogeyman Pop
From this point on, we'll be talking about Blumhouse horror projects that are either in development or are awaiting some sort of a release platform. In the case of Boogeyman Pop, the latter is the case, as the film had a festival premiere earlier this year, at the Cineapocalypse Film Festival. An anthology film of sorts, the three stories of the film are linked by the infamous killer, armed with a baseball bat and a black Cadillac. Sadly, even after screening for a hyped up festival crowd back in June, the film still has no official release window to speak of. But Boogeyman Pop is out there, like its central killer, ready to take on unsuspecting audiences.
Release Date: TBD
Bloodline
Seann William Scott might be the last person you'd think of as a psycho killer, but Bloodline appears to be selling just that. With his character Evan ready to protect his family by any means necessary, this father figure isn't afraid to get his hands dirty when it comes to family matters. Bloodline recently premiered at September's Fantastic Fest film festival, which gives it some time to shop itself around at the market. So at the moment, there's no official distributor or release date for this potentially bloody debut. But if enough word gets around about William Scott stepping outside of the box to play to a more sinister edge of his personality, that might soon change.
Release Date: TBD
Relive
Time travel, and protecting one's family seem to be on the menu in the "plot being kept under wraps" sci-fi/horror film Relive, which was previously titled Only You. While it isn't the first time that Blumhouse Productions has dabbled in the temporal arts, this film sounds like it'll be more emotional than most other horror films of this sort. David Oyelowo and A Wrinkle In Time's Storm Reid star in the film involves a police officer protecting his orphaned niece. From what, we're not sure of, but "sinister forces" are being mentioned as the culprit. No release date has been set, but Relive did premiere at January's Sundance Film Festival, so the film just needs to land a distribution deal to be seen by the public.
Release Date: TBD
The Gallows Act II
The Gallows shocked audiences in 2015 with both its horrific story of a High School drama production gone wrong and the supposed curse it had cast on the very show the film gets its name from. Two years later, a surprise sequel was announced in The Gallows Act II, with a viral video challenge being the catalyst for the latest round of horror. As of this past August, the film was announced as being completed, with Jason Blum saying that The Gallows Act II could be out by or around May of next year. So if you're ready for the return of the vengeful spirit known as Charlie, you might not have to wait for too much longer.
Release Date: TBD
Prey
Sometimes, a movie can go into production, but not quite so clearly come out on the other side. That seems to be what's happened to director Franck Khalfoun's Prey, a teen thriller starring Logan Miller and Kristine Froseth. Taking place on an island where Miller's lead character is apparently undergoing "behavioral rehabilitation." Usually, when a teenager is being subjected to any sort of treatment that sounds painful and traumatizing, any setting could be tense. But a desolate island definitely ramps up the stakes. Prey started shooting in 2016, and is supposedly in "post production," if IMDB is to be believed. Let's hope the film hasn't lived up to its title and been taken out forever.
Release Date: TBD
Sweetheart
And now, for the most secretive Blumhouse Productions film ever: Sweetheart. Beyond the fact that the film is set to star Kiersey Clemmons, with the director of fellow Blumhouse Productions alum Sleight, J.D. Dillard, set to helm, nothing is known about this film. The potential plot, or what sort of "survival horror" awaits its cast, are unknown at the moment. Though judging by the title, there's a chance that a romantic admirer may be stalking their prey through the events of Sweetheart. So, right now, this film could be in production in your neighborhood, staring at you from the bushes, and you'd barely even know it.
Release Date: TBD
Run Sweetheart Run
Sweetheart is not to be confused with the even more recently announced flick Run Sweetheart Run, which is also set up at Blumhouse Productions. Billed as a "feminist horror" film, we know quite a few details when it comes to this Blumhouse film. Writer and director Shana Feste's story for the movie is about what starts as a blind date, but eventually turns into a violent hunt across Los Angeles. The hunted party is the woman who went on the date, while the hunter is whatever person she decided to go out on said date with. Run Sweetheart Run is currently in development, with no cast or shooting schedule announced at the moment.
Release Date: TBD
Five Nights At Freddy's
If there were ever a video game that felt ripe for an adaptation, Five Nights At Freddy's is definitely that candidate. Based on the video game of the same name, the story of murderous animatronics looks to be aimed at its younger audience. Blumhouse Productions knew that when the company snagged the project for an intended 2020 release date, though there will be a bit of a delay. Apparently, the game's creator, Scott Cawthon just announced that he's tossed out his greenlighted and approved script to director Chris Columbus' big screen adaptation. Cawthon apparently had a better idea, and it was worth throwing away an entire script. So fans of the series will have to wait that much longer for the adaptation of Five Nights At Freddy's to come to the silver screen.
Release Date: TBD 2020
Spawn
Hardcore Todd McFarlane fans have been waiting for a proper, R-rated Spawn reboot for quite some time now. Considering the comic created by McFarlane involves some rather nasty demons (and even more depraved people), a mere PG-13 should have never been in the cards the first time around. While the project had been cooking with its creator for over a decade, Blumhouse Productions didn't jump on until 2017. Jason Blum confirmed his participation at that year's San Diego Comic Con, and a year later, two of the film's crucial roles were cast: Jeremy Renner as Detective Maximilian Steven Percival "Twitch" Williams III, and Jamie Foxx as Al Simmons / Spawn himself. Production is set to start in June 2019, after several early delays, and promises that this version of Spawn's story would make children cry if they ever saw it.
Release Date: TBD
The Craft
While a remake of The Craft is certainly not a new prospect, it appears that the 1996 cult classic is starting over with a new iteration, courtesy of Blumhouse Productions. It's early days for the project, but what we do know is that Zoe Lister-Jones, best known for her roles in TV shows like The New Girl and Life In Pieces, will write and direct this new version for Columbia Pictures. Whether the original plan of a contemporary sequel, with shades of a reboot mixed in, will be followed or discarded is up in the air, but for now, it's nice to know that the weirdos will be coming back into town at some point in the future.
Release Date: TBD
Previously Released Films
Glass
Unbreakable started M. Night Shyamalan's venture into a world where superheroes and their equally powered villainous counterparts exist underneath the surface of everyday life. Split resurrected that world, after being dormant for almost two decades. Now Bruce Willis, Samuel L. Jackson and James McAvoy are teaming up to help Shyamalan officially seal up the universe between the two films, with the third film in this trilogy, Glass. While it might have been a more even-handed battle with just Elijah and David fighting the first time around, there could be more superpowered beings where that came from. Also starring Sarah Paulson and Anya Taylor-Joy, the universe we could only dream of after Unbreakable is finally happening.
Release Date: 1/18/19
Happy Death Day 2U
Picking up where the surprise hit of 2017 Happy Death Day left off, Happy Death Day 2U sees Tree Gelbman (Jessica Rothe) re-entering the same endless loop she lived through in the first film. Much like the previous go 'round, she has to die in order to reset the loop, in hopes of figuring out how to restore her timeline. However, things are a little different this time around. Not only is there another killer on the loose this time out, but the events are just a little bit different in the new loop's chain of events. Add the fact that previous killer Lori (Ruby Modine) is back with a vengeance, and you've got a killer sequel.
Release Date: 2/14/19
Us
When Get Out became a gigantic critical and financial hit for Blumhouse, it should have been a sign that writer/director Jordan Peele would eventually team up with the studio for another spin of the wheel. Thankfully, that very scenario was confirmed when Peele dropped a cryptic tease for his next film, Us. While the story for the film is still tightly underwraps, we do know that it's a horror film dealing with a relationship of some sort. Also, the cast has been the one public point of knowledge, with Lupita N'yongo, Winston Duke, Tim Heidecker, and Elizabeth Moss being included in the ranks. So while we don't know what the story may be for Us, we do know that the cast and creative talent behind the film promises a solid experience.
Release Date: 3/15/19
Which Blumhouse movie are you most looking forward to? Take a look at what else is coming with our full movies schedule.
Your Daily Blend of Entertainment News
Senior Movies Contributor
CinemaBlend's James Bond (expert). Also versed in Large Scale Aggressors, time travel, and Guillermo del Toro. He fights for The User.