Blunt Talk: Hey Hollywood, Stop Wasting Emily Blunt's Talents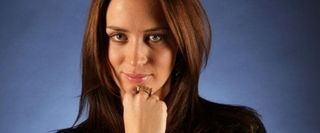 Can I be blunt? (And I promise, I'll stop leaning on that bad pun from here on out.) We're wasting Emily Blunt's talents. And it's time we got her into a series of films that utilized her various skills before she stumbles down the path of great actresses unfairly tossed to the side.
You know who else has seen their careers claimed by that dead-end street? Hilary Swank, Rachel Weisz, Renee Zellweger, Emily Watson and Elisabeth Shue, just to name a handful. I'm not saying these actresses won't ever work again. But it's becoming harder and harder for them to get rewarding roles in challenging features. And I'm deathly afraid this is about to happen to Blunt.
The thought occurred to me on my way to see The Five-Year Engagement, and Nicholas Stoller's complicated relationship comedy only confirmed my theory. Blunt plays Violet Barnes, a budding psychologist whose acceptance into a Midwest university disrupts her engagement to a successful, San Francisco-based chef (played by Jason Segel). Stoller and Segel (who co-writes) use the realistic scenario to dissect a number of accurate obstacles facing contemporary, two-career couples. And while Engagement ends up being an uneven experiment, Blunt -- as is usually the case -- is far better than the movie that was fashioned around her.
Blunt was a veritable newcomer when she first broke on the scene in 2004's My Summer of Love, where she engaged in a passionate affair with a teenage tomboy played by Natalie Press. Beyond the titillation of teen lesbians, critics were moved by the Blunt's confidence, vulnerability and screen presence. "Both Natalie Press and Emily Blunt (neither of whom is likely to be familiar to American viewers) are superlative," wrote James Berardinelli for ReelViews. "They nail their cinematic alter-egos effortlessly, using verbal and non-verbal cues to tap into their emotions. They understand their characters and use their talents to bring them to life."
But Hollywood's littered with eye-catching one-off performances. We anxiously awaited Blunt's next move.
It was The Devil Wears Prada. And while history will associate David Frankel's acidic fashion comedy with Meryl Streep's Oscar nominated turn, I'll choose to remember the way Blunt eclipsed Anne Hathaway as Dame Streep's frazzled assistant. Part of me wondered how much better Prada might have been with Blunt in Hathaway's sensible shoes. Maybe we'd be watching the red-haired Brit in a skin-tight Catwoman suit this summer, or preparing to sing alongside Hugh Jackman and Russell Crowe in a Les Miserables remake?
Instead, Blunt was relegated to "second-banana" status, though she continued to shine in supporting roles. Her Dan in Real Life cameo set that otherwise tame comedy on fire. (OK, maybe it's just that sexy dance, but she's acting alongside Dane Cook, so it's easy to look vivacious.) She was underused in Charlie Wilson's War, misused in Sunshine Cleaning and ignored in The Young Victoria.
The latest trend appears to be pairing Blunt with a string of handsome leading men to see if romantic chemistry can heat up an half-baked premise. When it works, audiences are treated to something special, like The Adjustment Bureau. When it doesn't, we get Salmon Fishing in the Yemen.
It's very possible I'm moving too quick toward dismissing Blunt's future options. Though I've yet to see Your Sister's Sister, I've been told she's extremely good (duh) in an overall entertaining movie. And Blunt has the intriguing sci-fi time-twister Looper on the horizon, which could be the film that finally elevates her to the next level, where I think she belongs.
And yet, maybe the cold, hard truth is just that there aren't enough powerful roles for versatile actresses in today's film community. Talented performers have to play superheroes (Scarlett Johansson) or, worse, the eye candy for a strapping superhero (see Oscar winner Natalie Portman in Thor) if they hope to have the clout and fame get more meaningful projects made.
So yes, we need more parts that challenge excellent female performers. But I'm also arguing that more of those parts need to be offered to Blunt, because she's too good for Miss Piggy's receptionist in the Muppet reboot, or the sexy sidekick in Tom Cruise's All You Need is Kill. Isn't that what we have Blake Lively or Selena Gomez for?
Your Daily Blend of Entertainment News
Sean O'Connell is a journalist and CinemaBlend's Managing Editor. He's frequently found on Twitter at @Sean_OConnell. ReelBlend cohost. A movie junkie who's Infatuated with comic-book films. Helped get the Snyder Cut released, then wrote a book about it.