The Bodyguard Headed Back Into Theaters Later This Month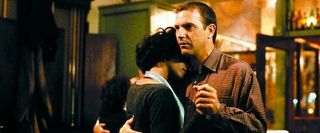 It's kind of hard to believe it's been twenty years since The Bodyguard released into theaters, but it has. And the occasion is being acknowledged with a one-night-only in-theater event. Those who want to see the film back on the big screen will have the opportunity to do so in less than two weeks.
Warner Bros. and NCM Fathom Events have teamed up to put the Kevin Costner/Whitney Houston romance back on the big screen. Marking Houston's acting debut, the movie stars Houston as a pop singer who hires a former Secret Service agent (Costner) to look after her. In honor of the film's 20th anniversary, The Bodyguard will be shown in select theaters on Wednesday, March 28 at 7:30 p.m. local time.
?For me, The Bodyguard was always more about the soundtrack than the movie, but others may disagree. And I'm guessing that, in addition to the 20th Anniversary, Houston's recent death - and the potential interest people may have in honoring it by revisiting the movie on the big screen - may have played a factor in Warner Bros. decision to put it back in theaters, if only for a night. Regardless, it was a popular movie and many people might appreciate the chance to see it back in theaters. If you're among them, you can find out where it's playing near you at Fathom's website.
Your Daily Blend of Entertainment News
Thank you for signing up to CinemaBlend. You will receive a verification email shortly.
There was a problem. Please refresh the page and try again.