Book Of Mormon Star Josh Gad Playing A Sex Addict In Thanks For Sharing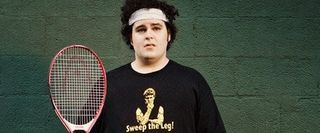 Michael Fassbender was the talk of this year's Toronto Film Festival for his role in Shame, in which he plays a deeply conflicted, utterly miserable sex addict who's also handsome enough to pick up women on the subway without a whole lot of effort. But if you were wondering how a man with less God-given handsomeness might handle that kind of addiction, Josh Gad has the answer to all your questions. According to Variety he's joining Thanks For Sharing, an indie that also starsMark Ruffalo, Tim Ribbons, Gwyneth Paltrow and Joely Richardson, all of them playing a group of sex addicts who meet in a recovery group.
You might not know Gad from his brief supporting movie appearances in 21 and Love and Other Drugs, but you've probably at least heard his singing in The Book of Mormon, the new Broadway play from Trey Parker and Matt Stone that picked up a ton of Tony awards and nominations, including one for Gad as Best Actor. You can listen to his big musical number, "Man Up," at the bottom of this post if you've somehow missed it. Anyway, the Mormon role is clearly a big breakout role for Gad, but with the Broadway gig still going he's using his new clout for a relatively small production that's based in New York. Stuart Blumberg, who was nominated for an Oscar for co-writing The Kids Are All Right with Lisa Cholodenko, is making his directorial debut with the project. Production starts later this month in New York City.
The one thing I'm hoping Thanks For Sharing might do for Gad is give him a role that requires a little more subtlety than Love And Other Drugs and even Book of Mormon, in which he does some fine singing and dancing but remains the loud goofball throughout. Of course, a comedy about a sex addict doesn't sound like the darkest material for Gad to take on, but Blumberg showed a real gift for writing subtle, layered characters with Kids, so I'm expecting good things from all of them.
Staff Writer at CinemaBlend
Your Daily Blend of Entertainment News
Thank you for signing up to CinemaBlend. You will receive a verification email shortly.
There was a problem. Please refresh the page and try again.