The Boxtrolls: This Exclusive Clip Explores The Oscar-Nominated Film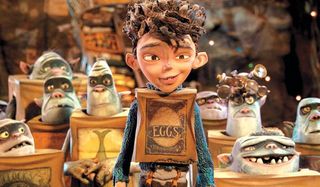 Beneath the slick-wet streets of gothic London, a community of unusual creatures have abducted a child and decided to raise him as one of their own. What could have been the premise of a sick and twisted horror film instead fuels the imaginative stop-motion adventure The Boxtrolls, which is available on Blu-ray combo pack beginning today, January 20. To get you excited for the new release, we have this exclusive clip. Give it a spin:
The best part of the above clip? It comes with commentary! Co-director Anthony Stacchi talks about the creative process that went in to the development of the villain of the film – Lord Portley –Rind (Jared Harris) and his henchmen, Pickles (Richard Ayoade) and Trout (Nick Frost). In addition, the clip boasts behind-the-scenes footage of the actors giving voice to their animated characters – something I always love watching – and shows us how the stop-motion animators built this incredible world.
There was a lot of talk last week about the movies that didn't make it into Oscar's Best Animated Feature category… with an emphasis on The LEGO Movie. And with good reason. But in the process, those of us ranting at the Academy overlooked the movies that DID earn an Oscar nomination… The Boxtrolls being one of them.
Now, however, you are able to catch up with the animated movie and see why it earned that Oscar nom. The movie comes to us from Laika, the same geniuses behind Coraline and ParaNorman. The follows clip suggests some of the films visual inspirations.
And the Blu-ray will include:
The Boxtrolls Blu-ray combo pack is available beginning today, January 20.
Movie junkie. Infatuated with comic-book films. ReelBlend cohost. Resident dad. Extroverted introvert. Wants to see the Snyder Cut. Managing Director at CinemaBlend.
Your Daily Blend of Entertainment News
Thank you for signing up to CinemaBlend. You will receive a verification email shortly.
There was a problem. Please refresh the page and try again.