Brad Pitt And Casey Affleck May Reunite For Cogan's Trade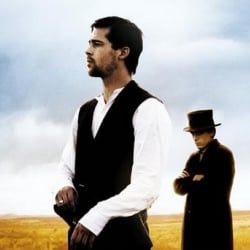 Though it starred Brad Pitt and a slew of up-and-comers like Casey Affleck, Sam Rockwell and Paul Schneider, The Assassination of Jesse James by the Coward Robert Ford now looks like more of a curiosity as part of the Westerns boomlet of 2007, remembered only by the people who actually saw the movie with its elegant cinematography and consideration of the male ego and myth. But Pitt, who's never been known to back down from a personal interest no matter how inadvisable it might be in maintaining his own celebrity, is going back to work with Dominik again, and this time is going for comedy.
According to Deadline, Pitt is in negotiations to star in and produce Cogan's Trade, a comedic tale about a man investigating a heist that takes place during a high-stakes poker game run by the mob. Yes, there are some echoes of Ocean's Eleven in there, and you'd better believe the movie will be sold on that angle if it ever gets made. On top of it all, Ocean's and Jesse James co-star Casey Affleck is also rumored to be on board as part of the film's ensemble cast.
Pitt just finished shooting Moneyball and is at home tending the kids while Angelina Jolie shoots her Bosnian war film; it's remarkable that the two pull off not working while the other does, but I guess they're famous enough to make it work, and somehow Pitt will squeeze this project along with everything both he and Jolie are considering. Deadline also notes that he's considering an adaptation of the espionage novel The Gray Man, so it's hard to say where Cogan's Trade might fit into the lineup.
Staff Writer at CinemaBlend
Your Daily Blend of Entertainment News
Thank you for signing up to CinemaBlend. You will receive a verification email shortly.
There was a problem. Please refresh the page and try again.