Brad Pitt's Middle Eastern War Epic The Operators Lands A Director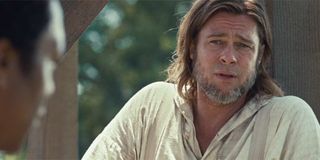 While some may be wary about how Hollywood treats certain hot button topics, there certainly remains no paucity of movie stars who want to at least address the issues. So it goes for an adaptation of The Operators: The Wild And Terrifying Inside Story Of America's War In Afghanistan. Brad Pitt is attached to produce and star in the film as outspoken General Stanley McChrystal, who was fired from his post in the aftermath of a scathing Rolling Stone article where he candidly took shots at the current administration and reflected sharp skepticism regarding the current course of action. A hot potato, this project, and now a director is picking it up. Hopefully with oven mitts.
David Michod is the man behind the camera for The Operators, according to THR. The Australian director put his stamp on the industry with 2010's intense suspense thriller Animal Kingdom, where he depicted the dissolution of a family of criminals. His latest is The Rover, where Robert Pattinson and Guy Pearce face off in a post-apocalyptic nightmare world. Apparently someone has seen enough of that latest movie to be hired by Pitt's Plan B production company (also behind 12 Years A Slave) to take the reins of this sure-to-be-controversial film.
McChrystal was one of the more prominent political voices in the Middle East. An outspoken critic of the war, McChrystal was nonetheless a highly-decorated commander, credited with the death of Abu Musab al-Zarqawi, who led Al Quaeda in Iraq. However, he also cited "public embarrassment" when he wrongly classified the death of Ranger Pat Tillman as "friendly fire," a justification that drew deserved heat from those investigating the circumstances of the soldier's death. Pitt, who will next be seen leading a battalion in Fury and has a pretty full dance card beyond that, will have to call upon every last ounce of his movie stardom to bring this man's storyline to life.
The Rolling Stone article and subsequent book here penned by Michael Hastings, so you have to believe that perhaps Hastings will be a character in the film. Hastings eventually became an ardent investigator of the government's many surveillance tactics, particularly uncovering how the government was tracking and labeling Occupy Wall Street protestors. In June last year, he passed away in a violent car accident, prompting those who knew him closely to cast suspicions on his passing. Hastings had claimed he was honing in on a major story, and while all intelligence agencies claimed they were not involved in his passing, the crash remains a source of contention today. Hastings' final article was published to BuzzFeed a couple of weeks earlier. It's title was Why Democrats Love Spying On Americans. Do you think this will be part of the film? Do you want the political drama to go down these roads? Share your thoughts below.
Your Daily Blend of Entertainment News