Brendan Fraser To Front Thriller Split Decision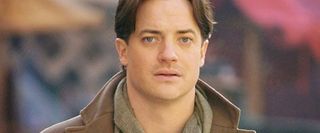 Brendan Fraser's fame has been slipping the past few years thanks to forgettable family films like Inkheart and Furry Vengeance. But while he may be down, he's definitely not out. Fraser recently wrapped on Pawn Shop Chronicles, a Paul Walker-produced action comedy, and this is just one of nine features he has slated to hit theaters in 2012 and 2013. And the latest of these, could offer audiences a new side of the oft-goofy grinned leading man.
THR reports Fraser has signed on to star in Split Decision, a thriller from King of Sorrow writer-director Damian Lee. The story begins innocently enough with a camping trip. While off with a family friend, a young brother and sister accidentally stumble upon a murder in progress, making them witnesses and thereby the two killers' next target. Fraser is set to play the kids' father, who must swoop in to rescue them from a pair of criminal brothers played by Dominic Purcell (Prison Break) and Ethan Suplee (My Name Is Earl).
Sounding like a variant on The River Wild minus the river, Split Decision could be a welcomed change of pace for Fraser, who has fallen into thankless slapstick performances. Though best remembered for daffy comedies like Encino Man and action adventures like The Mummy franchise, Fraser has turned in some deeply poignant performances in dramas like With Honors and Gods and Monsters. While the premise here seems a little overwrought, it will offer Fraser a great chance flex his dramatic chops and remind Hollywood how moving he can be.
Also on board for Split Decision is Canadian TV star Holly Deveaux of teen sitcom Baxter, and Christian Martin who will play Fraser's children. Amy Price-Francis of the Canadian crime drama series King will appear as his wife. As you may have guessed, Split Decision will be shooting in Canada, specifically Ontario. Principal photography on the picture will go into production soon.
Your Daily Blend of Entertainment News
Staff writer at CinemaBlend.
Your Daily Blend of Entertainment News
Thank you for signing up to CinemaBlend. You will receive a verification email shortly.
There was a problem. Please refresh the page and try again.