British Victoria's Secret Model Replacing Megan Fox In Transformers 3?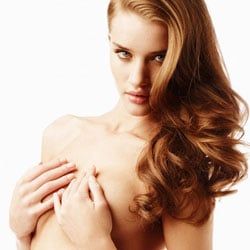 Remember when we warned you yesterday to ignore any casting rumors about Megan Fox's Transformers 3 replacement that involved a major star, since Michael Bay was likely going to save money by casting some nameless underwear model? Well, Example A. has arrived. Geek Week (via Latino Review) is reporting that British Victoria's Secret model Rosie Huntington-Whiteley has been cast to replace Fox.
This information comes from nothing but an anonymous source at Geek Week, so as always, be skeptical. But the casting makes sense-- she's hot, she's shown screen ambition by showing up on an episode of Britain's Next Top Model, and she's apparently Jason Statham's girlfriend, which means she's probably been around when Statham and Bay meet to rev the engines on their giant cars and flex their biceps in unison (they may not actually do that, but I'm assuming so until proven otherwise).
Of course, you could also do a search for last year's Victoria's Secret TV special, find another young model who isn't Heidi Klum, and build up a reasonably credible rumor around her as well. So, again, don't take this too seriously until we hear more.
Your Daily Blend of Entertainment News
Staff Writer at CinemaBlend