Brittany Murphy's Movie Deadline Is Too Much Too Soon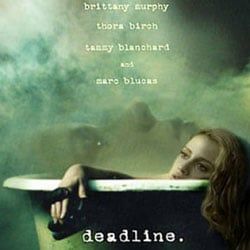 Amidst all of the sadness surrounding the untimely passing of Brittany Murphy, of course, is controversy. I'm not talking about cause-of-death speculation, but a DVD box art image that displays the late actress in an eerie situation far too soon. The film in question is Deadline and DVD rental company Redbox has decided to yank the box art from their kiosks nationwide.
The image feature's Murphy's character lying lifeless in a bathtub. Coincidentally Murphy collapsed in her bathroom, where paramedics desperately tried to revive her. In the straight-to-DVD horror film, Murphy plays Alice, a writer who travels to a remote Victorian house to finish up a script before deadline. Strange noises lead her to the attic where she discovers videotapes of a couple (Thora Birch and Marc Blucas), hurling her into endless eerie and horrifying mind games.
As reported by E! Online, Laura Dihel, a Redbox spokeswoman, said, "We will continue to carry her film, but we will not be featuring the box art. We have 19,000 locations, and to be honest, I can't tell you if this particular art is up at all the locations." The removal process kicked off yesterday and is expected to conclude by the New Year.
Murphy's death is tragic, but I'd hate to see the last of her work suffer as a result. Redbox decided to remove the artwork while still planning to distribute the film, but shouldn't the production companies have some hand in the effort? It's a testy situation and needs to be handled delicately. Those in charge need to do anything necessary to be respectful while still honoring the work she did.
Your Daily Blend of Entertainment News
Staff Writer for CinemaBlend.